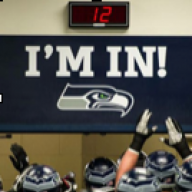 Joined

Dec 31, 2014
Messages

5,439
Reaction score

0
Location
I was thinking about writing another preview for this week's game against the Oakland Raiders, as they are one of the teams I have been following this off-season. But to be honest, I'm kind of over the preseason. I don't expect to see anything different in this fourth game: more vanilla play calling with Jimmy Graham wasted as an in-line blocker, ostensibly to not show our hand, very little or no Marshawn, Russell looking not mentally checked into the game, Christine Michael doing stupid things, and more horrendous safety play. There is an undeniable spirit missing from the team with Earl Thomas absent from the field, Kam Chancellor from the locker room, and Ken Norton's booming voice from practices and the sideline. It's going to be bittersweet to end the preseason against a Ken Norton-coached defense.
So here are some of the matchups I am looking forward to watching against the Rams in Week 1 . . . .
* Garry Gilliam vs. Robert Quinn
Robert Quinn is the sort of explosive pass rusher who justifies moving Justin Britt to LG and starting Gilliam at RT. For a 4-3 DE, he is incredibly athletic and quick off the ball. He combined that explosiveness with violent hand work to become one of the game's scariest pass rushers. Quinn often rushes from the right side against the QB's blindside, and Okung is the prototypical LT with the power and length to match Quinn step for step. You can see here how Okung typically uses his length, athleticism, and power to anchor against Quinn, keeping the pocket clean for Wilson: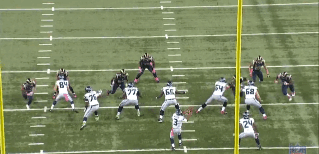 Typically, Quinn prefers to rush from the RE (with many twists and stunts to create confusion while exploiting the middle of the line) but
he lined up mostly at LDE over the RT in the 3rd preseason game
-- which could be a harbinger of things to come on opening day. This is significant, because it was the first time in Quinn's four year career that he lined up primarily from the left side.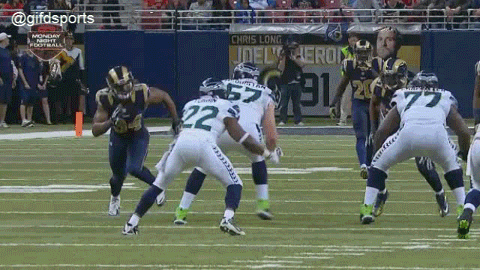 Quinn has had a quiet preseason with no pressures, and he had a relatively quiet start to last season before recording his first sack in Week 7 against the Seahawks. He had six total pressures in that first game against the Seahawks, mostly rushing from the RDE position, with the sack coming on a bad block by Cooper Helfet on the left side.
If Quinn does line up more at LDE, it will be a significant first test for Gilliam. He tends to struggle more with savvy power rushers, a la Chris Long, but you know Jeff Fisher has to be licking his chops imagining ways to exploit Gilliam's inexperience. "Garry Gilliam, who in the hell is that?!" I personally think Gilliam's length and athleticism will matchup relatively well against Quinn's style of rushing. I expect a good game from Gilliam, one that will keep him out of the highlight reel, ensuring that most people around the league still won't know his name by the time the game ends.
Gilliam did a nice job here against Justin Houston:
* Jimmy Graham vs. T.J. McDonald
Graham is a matchup nightmare for pretty much everyone, so it will be interesting to see how he does against a Rams defense that has been very good in covering TEs (allowing just 67 receptions for 714 yards and 2 TDs -- the 10th fewest receptions, 9th fewest yards, and T-2nd fewest TDs by TEs last season).
McDonald would appear to matchup better against Graham than anyone else in the Rams' back seven. He is strong, with quickness, length, and good coverage instincts. Carroll is very familiar with him, having recruited him out of HS and coached him for a year at USC, as well as having coached his father, Tim, of the same name and position, when he was the 49ers defensive coordinator. The younger McDonald is perhaps most famous for his interesting way of tackling Vernon Davis:
Ideally, I would like the Graham-as-in-line-TE experiment to end and for Graham to see at least 50% of his snaps outside at Split End, drawing McDonald outside the box, giving Russell more of a clear sight at Graham on the sideline, and opening up more opportunities for everyone across the field. Will Bevell go in that direction when the bullets finally start flying? Who really knows.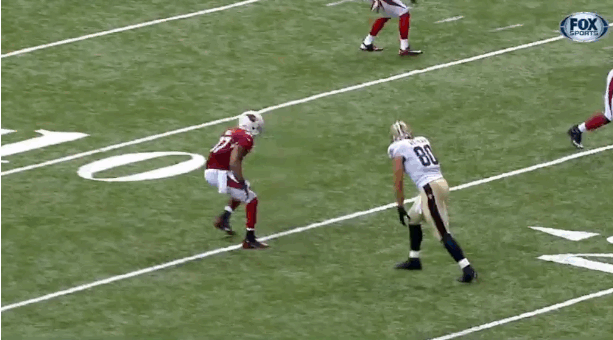 * Drew Nowak vs. Michael Brockers and Aaron Donald
While Quinn does a lot of his damages on stunts, which will test the middle of the offensive line, Aaron Donald's freakish quickness will provide the greatest test for the line. Donald does his best work when facing off against centers from the three technique, exploiting the confusion between blockers and taking advantage of the split second in time it takes for center to get out of stance after snapping the ball.
This article
provides an excellent breakdown of Donald as a pass rusher. Donald is most neutralized when the center turns away from him, leaving the guard with a simpler one-on-one matchup. Donald will also provide a huge matchup issue for both guards, Sweezy as well as Britt at his new position. As a whole, the Rams defensive line probably poses the most dangerous challenge the offensive line will face this season.
The good news is, through three preseason games, Nowak has not allowed a single pressure. Tom Cable credits Brandon Mebane for pushing Nowak every day in practice to become a better player, particularly in pass protection, where the style of a rusher can vary dramatically from play to play. Nowak has said that his experience as a defensive tackle has been useful in diagnosing and anticipating pass rushing tendencies. Watch the way he and Sweezy are pointing out assignments pre-snap, then as the defensive tackle angles across the A gap, Nowak picks up the rusher and stonewalls him:
* Entire Seahawks Defensive Line vs. Nick Foles
Foles is a below average QB under pressure. At times, he gets that deer in the headlights look when the pressure is barreling down on him. He is used to playing behind one of the league's best and most athletic offensive lines in Philadelphia. Now, he will get to experience what it is like to quarterback behind one of the league's worst offensive lines in St. Louis. They have allowed a league-worst 12 sacks so far this preseason. They have also allowed the second most pressures with 49. Last season, with the benefit of Jake Long at LT for seven games, they allowed the 4th most sacks (37 vs. only 18 for the Seahawks thanks to Russell's elusiveness) and the 8th most pressures (225 vs. 198 for the Seahawks). Good luck, Foles, you're going to need it!
The Seahawks' deep corps of defensive linemen should be a nightmare matchup for the statue that is Foles. Cliff Avril and Michael Bennett are as dangerous as they have ever been, perhaps even more dangerous with a healthy Brandon Mebane, in the best shape of his life, providing interior penetration that will flush QBs out of the pocket. Jordan Hill looked fast and healthy last week in getting to the QB in the nickel package. Cassius Marsh has shown a good motor. T.Y. McGill looks strong and explosive, like baby Mebane; fingers crossed that they keep the undrafted rookie. Frank Clark is a beast. Enough said.