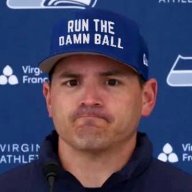 Administrator
Administrator
Moderator
Joined

Feb 23, 2007
Messages

17,711
Reaction score

4,252
Location
Make no mistake. This is a game this team loses 26 out of 30 times in franchise history.

Yep, there were warts. The defense still looks a little too much like the 2022 defense for my liking so far. Carved up the middle in both pass and run. Ugh.

But it's Week 2 so I am far from hitting the panic button yet. This is a young team and you can see the potential and yes the growing pains that come with being young. Thank God for Wagner. A total General on the battle field.

The most impressive thing of all today in my mind is how extraordinary the offensive line held up without their starting tackles! And at times we lost more linemen. Unreal!

Football fans much smarter than me will no doubt talk about how tight ends played a role in coverage and protections, et al. No matter what they did, it worked brilliantly so hats off to the coaches.

Geno. Can we admit the man is the real deal now? What a performance. Outside of that sack at the end of the 4th, he was amazing. Both Goff and Smith have earned my respect. I wrote them both off a couple years ago.

How about Tre Brown! Take a bow dude! Stay healthy and he will be a FACTOR.

I knew I would see this team show up versus what we saw last week. I just wasn't sure if they could pull it off and they did. Love being wrong.

Injuries are a valid concern but this team showed fight today. They showed glimpses of what they could be and will be. 11 wins is still in sight. Next week is a win (book it) so 2-1. Where do we go from here?

Rams and Cardinals have decided they are not going to just lay down after all.

The NFC West will be feisty to the finish. While it may ultimately still be a two horse race late December, the Rams and Cardinals will make it more interesting than we may have thought.

Proud of our boys today. Great, great win.