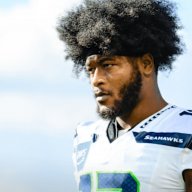 Joined

Sep 4, 2010
Messages

1,491
Reaction score

655
Location
So i wanted to take some time to start a discussion around the offense and specifically, the qb position. We're heading into the unknown with two, unproven players competing for the starting job at QB, with at best, limited relevant data to understand their strengths and weaknesses and reasonably forecast how they might do in Hawks Blue and under the guidance of Shane Waldron and his offense. What we do know is that aside from some flashes from Geno last year, the tape we have on both Lock and Geno isnt necessarily inspiring. Mitigating circumstances come into play for both to a degree, but the numbers are there for us to see and evaluate as best as we can. We also know what we've seen over the last few years with Wilson at the helm. Incredible accuracy, arm talent, grit, and an uncanny knack for just making the play. What's less clear is how well the offense was performing overall based on play calls and design. Much of that still cant be pulled out through data and analytics, without also having access to game film and actual game plans, but my hope is that by looking at some simple data, we can better understand what we are seeing on the field and paint a more reasonable picture of what's happening, if not always why.
To start, I thought it might be valuable to take a look at our offense over the last two years with Russ at the helm, to evaluate a few metrics. One that's been talked about a lot, given his height and preference for the deep ball, is depth of target on throws. In Russ's case, its pretty obvious that height didnt define his success in the NFL. But it HAS influenced how he plays. He can make every throw, but prefers to throw outside. He DOES throw to the middle of the field, but those throws tend to be routes like curls, and less layered crossing patterns - a topic for later. Understanding where our offense went with the ball when he was at QB as well as how it performed under Schotty vs Waldron, MIGHT give us some insight as to what we can expect moving forward (dont know this for sure, but maybe). Also, understanding the performance of the offense last year prior to Russ injury vs after vs the offense with Geno might also lend some insight as to just where we are as an offensive system. Again there are dynamics at play that we aren't privy to and never will be, without becoming a member of the team, but we can do what we can with what's available. I will have to do this in chunks as its a lot of info to grab.
First - Russ's depth of target completion percentage on all downs - Pre injury. The dashed line represents the NFL avg over the prior 2 seasons.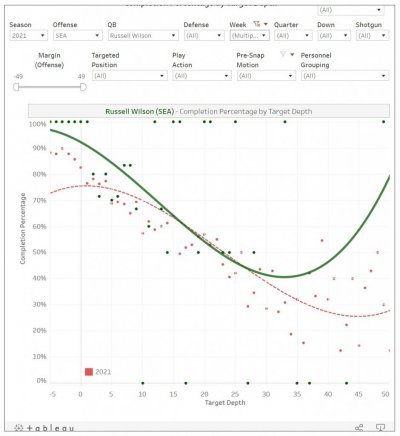 And his DOT% on 3rd down pre injury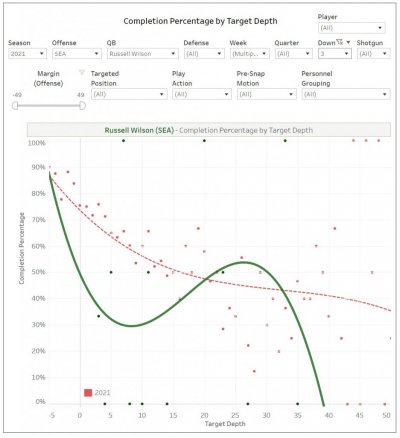 And Wilsons DOT % on 1st and 2nd downs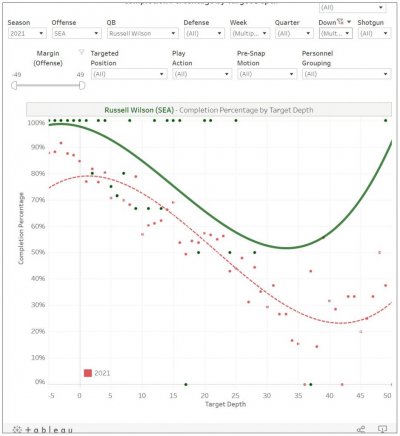 The analysis: In a nutshell, from what i can see, Russ was obviously great on 1st and 2nd down in terms of his completion at all depths. But on 3rd down, even before his injury, he became very average and worse inside 20 yards and outside of around 33 yards. This trend is supported by other sites that document Russ's passing proficiency on known passing downs slips considerably relative to other qb 's at his level of ability.
To contrast, here's Geno's chart (not picking sides, but the only comparison we have in our system, under the same coordinator, in the same season, is Geno)
Geno on all downs for the games he played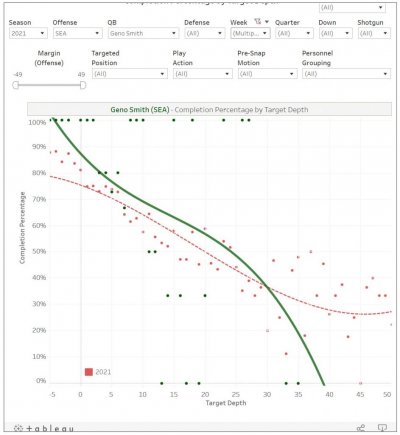 And Geno on 3rd down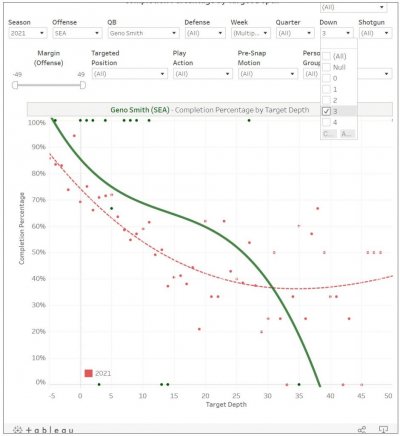 What does it say? What i see is a qb playing in the same system, who doesn't have the long ball accuracy nor the attempts that Russ has (playcalling and likely talent) but his performance across all down is fairly predictable and above average. In fact, he's slightly better on throws at around 20 yards on 3rd down than he is on 1st and 2nd. this is likely what Pete and Shane see when they're evaluating his play : a guy who you can pretty consistently count on to do the 'standard' stuff, if not yet the spectacular.
Now you might argue that some of Russ's poor numbers can be attributed to the sacks he absorbs and the resultant, longer 3rd down throws required. But regardless of whether those sacks were self inflicted or a result of poor blocking and required a 3rd a +8 to go play, Geno's sack numbers were pretty high as well, yet, his accuracy on throws out to almost 25 yards was better.
Does this make him a better player? No. But it certainly shows that regardless of target depth, out to 25 yards, and regardless of down, if he throws the ball, there's a good chance it will be completed. And that consistency is something the offense has been lacking. consistency allows the players and coaches to better evaluate who and what is working and use that info to gameplan and make adjustments in game. Neither the plan nor the adjustment can necessraily overcome excessively poor play from a player, especially at the QB position. But the stats to date don's show that that's what we have in Geno. Coachable, predictable, and because of that, the outcome of the game begins to slide toward the control of the coordinator and how effectively he can scheme success on the ground and the air.
And for comparison, Wilson over the entire 2020 season, under Schottenheimer - the guy he apparently wasn't happy with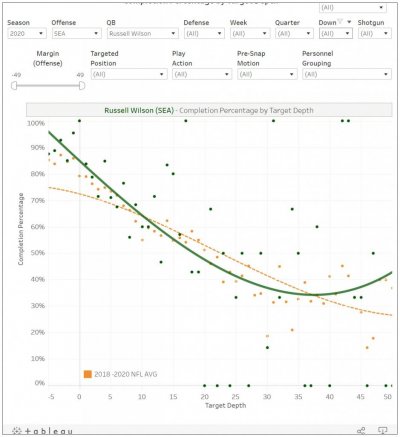 And Wilson in 2020 on 3rd down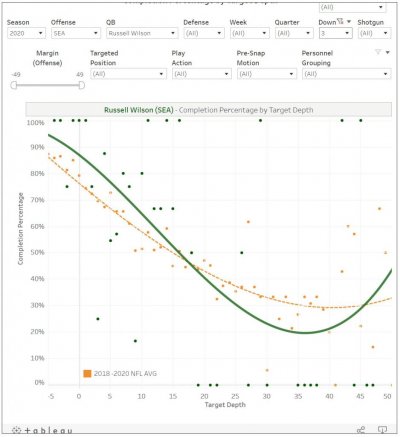 Will post more later on Lock and DOT% for Russ over the last few games of the season. Its worth mentioning that few QB in the league have the upward trend that Russ shows beyond 30 yards...
What is shows - To me ? - a qb who played much more consistently and predictably across all downs for the 2020 season. Its worth noting in trying to figure out what led to the downward trend in 2021, that Russ was enthusiastic about Waldron. Praised him. And that Pete was enthusiastic about both Shane and Brian, but grew frustrated at the downward trend of the passing game in 2020 and was often fuming at the performance of the offense in 2021 as early as week 2. makes me wonder IF 2020 represented Russ under more control by Schottenheimer and overall better consistency across all downs, and 2021 was Russ exercising his control in the offense with Waldron, does it shed some light onto the reasons behind the erratic swing in performance and play selection last year? Was it Waldron or was it Russ? The data in Russ's own performance and Genos under the same system seems to indicate more consistent play from the position across all downs when operating within the framework of the offense. Again, assuming Russ was doing that in 2020 ( he expressed frustration at being 'stuck' in it -despite) and not doing it in 2021 (he expressed annoyance at being questioned about why HE made the decisions he did with the ball)
For context : 2020 while Russ was cooking : 1st and 2nd downs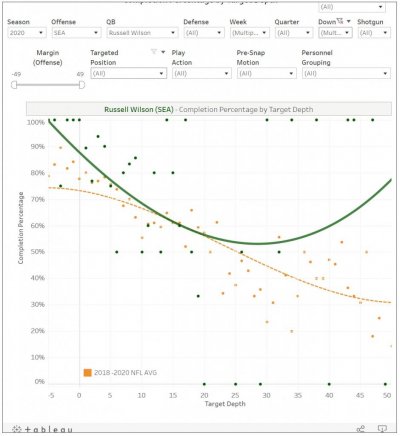 And Russ cooking (before Buffalo) on 3rd down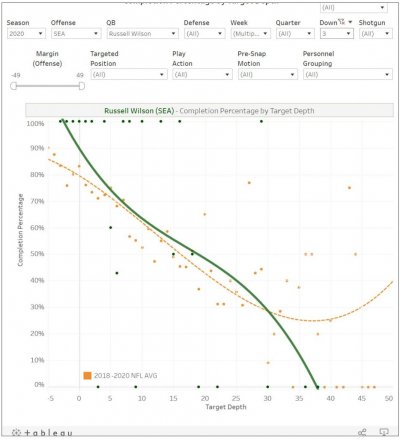 Vs Russ post cooking in 2020 on 3rd down (post Buffalo)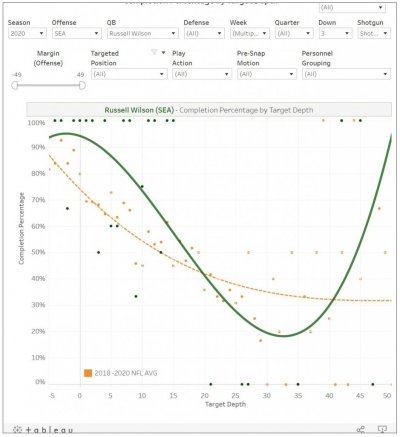 And Russ on all downs, Post Buffalo in 2020: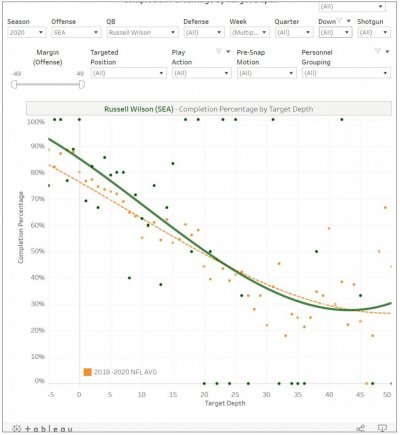 The simple, obvious takeaway is that the play selection obviously skewed toward shallower targets after week 7, and the percentage of passes completed out to 23 yards was above average on all downs and especially good out to 20 yards on 3rd down. It was that shift that allowed the offense to sustain longer drives and bring TOP into balance a bit better.
As a set, taken outside of contextual data like avg drive duration, it would seem that the 1st few charts where Russ was literally off the charts on 1st and 2nd down would be ideal. But there's a correlation in there somewhere between the upward sweep trend that Russ shows and scoring plays - which although good, when they are paired with inconsistent 3rd down play, net a situation where scoring can actually be nullified by the TOP surrendered to the opposition.
Thats all i've got for now.
Last edited: