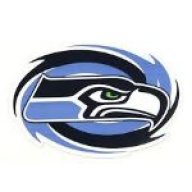 Joined

Dec 11, 2016
Messages

1,067
Reaction score

230
chris98251":3g02uhkc said:

pittpnthrs":3g02uhkc said:

chris98251":3g02uhkc said:

pittpnthrs":3g02uhkc said:

You are in a very small minority with your opinion, but you do you.

Mob mentality, show me something in writing that supports this.

Just read the threads here and any other Seahawks forum to see you are in the minority. She's never seen or heard from and she gave complete control to the coach. She's an absentee owner.

Once again speculation opinion hang um high mentality, I don't care if I am in the minority on this issue, you should know that about me by now. I think stabilizing the franchise after Paul's death as well as the Blazers and all his other interests was the first priority, he had a lot, then finding leadership roles and a reporting system with Vulcan the through her is the next, then addressing his wishes about other assets and charity's. That's a lot of things to manage, I have seen her in the booth on TV at games etc so she is not ignoring the team.
Not to mention that groups of loud fans on message boards rarely ever constitutes a majority of any fan base. It doesn't even represent a majority of fans on said message board very often. All it represents is a majority of the loudest people complaining. Most fans aren't on these boards. Most fans don't see a team's record get better by a game for 3 consecutive seasons and feel like the team is regressing. This very small ecosystem rarely mimics the larger reality of a fan base. Sometimes people forget that.
As far as an owner is concerned, it's a business. If winning 10+ games more often than not keeps the cash flowing, THE BUSINESS IS WORKING! We may not like it, but that's the way it is