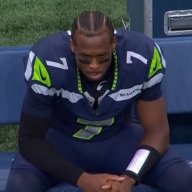 Joined

Jan 28, 2011
Messages

6,869
Reaction score

444
Location
My point being is that we are about to overpay a wide receiver who will get maybe 6 targets a game yet everyone is flipping out about paying the most important position in the game by FAR AND A WAY. Seems kind of hypocritical to criticize paying a QB yet on the other hand wanting to pay a really good receiver a mass contract when he hardly touches the ball and your QB's stink.
Its a waste of cap space.
When they moved on from Russ they should have moved on from D.K. and got draft capital for him. Go back to the days of finding undrafted receivers like Doug Baldwin and Jermaine Kearse and spend elswhere.
This makes sense to people who are making a decision not to think long-term, sure, but even the run-heaviest teams in the league pass about 50% of of the time. Your "six targets a game" exaggeration doesn't really make much sense when looking at the actual numbers.
Locking up a superstar long-term is a good thing. They're obviously going to attempt to acquire a quarterback next year. You don't just let game breaking talent walk because "grrrr they didn't pay Russ
grrrr"