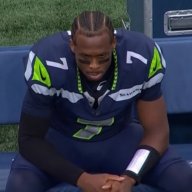 Joined

Jan 28, 2011
Messages

8,273
Reaction score

3,074
Location
Understood. So wouldn't bringing someone in from a 3-4 system to run the defense seem like the reasonable next step?
Ideally, you want someone comfortable in the system to run it, especially if you are pivoting to run your defense in that new system.
Desai should qualify. Hurtt too, really. Both Fangio tree dudes.
Actually, Pete as well, considering his SF defense from when he was DC there.
I guess they're running more 4-2 stuff according to Griff on Twitter, which.. I'm not sure why, I guess?
Seems like guys are freelancing a bit too much too, judging by Carroll's comments. Maybe it's just Hurtt's imposing image, but that's surprising to me that his guys would be freestyles and not staying disciplined. Could explain why the run fits have been atrocious and none of the edge guys are actually setting that edge.