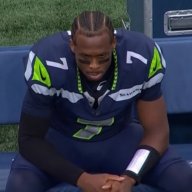 Joined

Jan 28, 2011
Messages

7,591
Reaction score

1,553
Location
The NFL is far from powerless. They can file an appeal, and guess who hears the appeal? Roger Goodell.

I also disagree that they've gone light on previous offenses. Calvin Ridley made a bet that his team would win a game, and he got suspended for the entire 2022 season, perhaps longer, and will lose over $11M in salary. DeShaun Watson had 24 lawsuits for sexual assault filed against him, and he gets 6 weeks and will forfeit less than $1M.

And if you want to talk precedent, in the only case similar to Watston's, Ben Worthlessburger had two unproven sexual assault accusations and was suspended for 6 games that got reduced to 4. If we were to use that as a guide, ie 2 games per unproven accusation, then Watson's 24 accusations would translate to a 48 game suspension, nearly 4 years. That's how outrageous this ruling is.
Huh. Well, that clears that up. I admittedly was not following as closely and had an incorrect view of the situation. Guess this is more interesting than I thought...