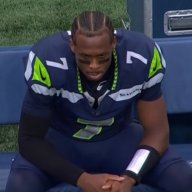 Joined

Jan 28, 2011
Messages

10,422
Reaction score

6,770
Location
No, you're projecting.

Just getting a guage on where everyone is at.

The poll shows the vast majority agree with me.

You have a personal agenda with me. Which is fine. Goofy, but fine. Try to stay on topic in the threads though, rather than making everything so personal in the future in the hopes of derailment.

The coaching is the clear issue with the team from my standpoint. But I welcome all compelling arguments that can be made in however they see it.

Coaching is their main issue at present, detailed in an earlier post.
The title has a bit of a connotation to my eyes, but I'll concede the point and give you the benefit of the doubt. You're right.
I chose coaching as well, with the caveat that I think offensive coaching is the primary issue with the team right now and that, theoretically, they have the talent to go far outside of IOL. I think offensive coaching is squandering the potential of the team and selling the defense out, and I hope Pete steps in more than he has been.
And no, I don't think these are the same issues as always, and I don't think they're a reflection of the HC's philosophy. These are bizarro world issues that are antithetical to the Peteball people used to complain about.