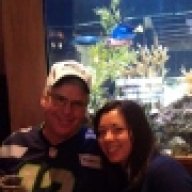 Joined

Jul 8, 2013
Messages

2,856
Reaction score

129
Location
This year, Lamar Jackson's rookie contract hits the 5th year option and his cap hit goes from about 3 million to 23 million (11% of cap). Next year would be franchise tag if not extended earlier. Harbaugh's window of cheap QB play is closing this year and they'll have to make a similar decision in Baltimore (similar to Seattle's this off-season).

LJ was drafted as the last pick of the 1st round in 2018. He won the Heisman in college (Louisville Cardinals), and the NFL League MVP in 2019. 3 ProBowl seasons and 1 All Pro season. 1 playoff win and 3 losses. A DeShaun Watson or Aaron Rogers contract would put the Ravens well above the QB cap of 20%.

This may seem off-topic to a PC thread, but it's so similar to Seattle. From 2014 to 2015, RW's average salary went from 700K to about 22Million or 15% of salary cap. His individual play improved until extended to his current contract at roughly 30 million or about 16% cap in 2021. He now wants 50 million/yr or about 25% of total Cap.

Harbaugh will face the same choices as Pete (unless LJ somehow loses his mojo and makes the decision easy). Baltimore is practically guaranteed to reach the playoffs the majority of the upcoming years but also practically guaranteed to fail to win the Superbowl. (No team has ever won the Superbowl with a QB cap hit above 12.6%).

So hypothetical question: For a period of the next 10 years, would you prefer a situation where you're guaranteed to make the playoffs 9 times, but also guaranteed to not win the SuperBowl or alternatively you're team will be embarrassingly bad for some years, but leave the chance open to win the big one over that timeframe?
IMO this is a more appropriate topic than what is posed in the OP. Barring some unusual circumstance, Pete is our coach for the 2022 season, so there's not much point in debating the merits of him continuing in that job.
To answer the question, I would rather have a situation where we are paying our QB less than 12% of the cap as it would give us more flexibility to rebuild our team into a genuine SB contender. It wouldn't have made much sense to pay Russell $50M+ if we can't protect him, give him a decent running attack, or a top 10 defense to keep games winnable.
Looking into my crystal ball, I saw no future SB's with Russell on our team. What I saw was perpetual mediocrity, a series of .500ish seasons, an occasional wild card playoff win, and no serious threat to go to the SB. I'd rather jettison him as we did, use the draft choices and cap space to rebuild the team, and take our chances going forward, knowing full well that there is the possibility that we could end up like the Lions or Jets.