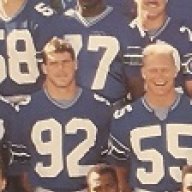 Joined

Nov 10, 2017
Messages

359
Reaction score

7
So Pete reckons he can outfox the rest of the NFL by using plays from days of yore. Sure!

Might I suggest:

The Statue of Liberty
The Rusty Giblet
The Iron Cluster
The Hail Petey
The Where's My damn glasses!?! (On your head)
The GET OFF MY LAWN!
The You don't tell ME how to run a football team I won and then threw away a Superbowl while you were still in diapers.
The Ghost of Red Grange who would've gotten away with it if not for those meddling kids and their stupid dog.
The Wayward Youth.
The forlorn honeybadger

Oh, and the flea flicker.