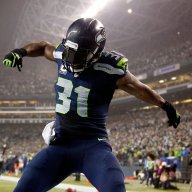 Joined

Dec 18, 2013
Messages

3,543
Reaction score

677
Location
Using Geno as a metric of how poorly Russ is playing right now doesn't mean we must think that Geno is as good as/ better than Russ. The number of people who don't get this (or disingenuously pretend not to) is astounding.

Your comparison to Aaron Rodgers, does not mean you necessarily think that Wilson is as good as Rodgers. Same thing.

It's not amateur eyes to notice that the bulk of their 2022 play has been remarkably similar. Wilson still has a slight edge on the longer ball, and that has saved his statistics from being absolute dog s***. He still plays like Russ of old, putting himself into the hole that he digs himself out of.

Whether that continues to translate into success remains to be seen. I still maintain that the Broncs aren't making the playoffs this year, and the Hawks will secure a playoff berth before the Broncs do.