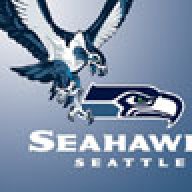 Joined

Dec 21, 2009
Messages

3,058
Reaction score

579
I think it is too early to write Eskridge off as a bust. On average, how long does it take WRs to acclimate to the NFL and become productive? How do injuries, team scheme, depth at the position, QB turnover, etc. impact the development of a young receiver?

I keep hearing analysts say that WR is one of the most difficult transitions from college to pros, yet we seem to expect guys to come in and contribute instantly. I think we can be disappointed at his production to date without jumping to the bust conclusion when Eskridge has been playing behind two above-average starters, changed quarterbacks after his rookie year, and dealt with some injuries. Maybe two years from now he is still unable to crack the depth chart, but it is much too early to jump to that conclusion today.
Normally, I completely agree with you, but the injuries especially the concussion concerns make me think it's time to move on.