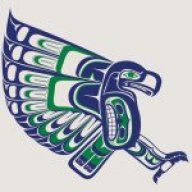 Joined

Jan 11, 2010
Messages

4,143
Reaction score

107
Kelenic has now had 86 at bats in 30 games so far this season. He has 12 hits and 9 walks to go with his 36 strike outs, .140 BA, and .219 OBP. To say he is struggling badly would be quite an understatement. So many of his AB's are just cringe worthy. He flails wildly at pitches no where near the strike zone and then watches a center cut 90 mph fastball go right down middle for strike 3, and then stands there bewildered as to what just happened. He looks completely lost up there most of the time.

He needs to be sent down to Tacoma, and he needs to be sent down yesterday. They've let this go on for too long at this point and I can't help but wonder if it's getting to the point of being detrimental to his development. Let him go down there and hopefully find his swing and build that confidence back up.

And yes, I understand that Haniger is going to be out for quite awhile, and that Kyle Lewis might not be ready yet. I also understand that there aren't really any other great options. I don't care. Kelenic needs to be sent down.

What we do have down in Tacoma is Steven Souza Jr. A 33 year old veteran right fielder with a lot of experience at the Major League level. No, he's not great and I doubt he'll be much of an upgrade, but he did have a couple of solid seasons with Tampa Bay. But at this point it's not really about Souza, it's about Kelenic. Also, what's the point of keeping a guy like Souza around down in Tacoma if you're not going to use him for situations just like this? And you never know, he might be decent, he has been before, and decent is a helluva lot better than what we've seen out of Kelenic so far.