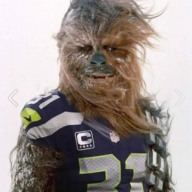 Joined

Oct 1, 2012
Messages

22,912
Reaction score

2,918
Hmmmm Cliff Avril was a 3rd rounder, Mebane was a 3rd rounder and Michael Bennett was an undrafted free agent.

But I agree I want to see DT and DE invested in first.
Exceptions don't excuse the rule. Look no further than the stiffs we've drafted later in the 1st round or early 2nd like Collier.
My point is if there's a generational elite DT or edge rusher at whatever spot we're drafting 1st? Then we'd be stupid not to take him.
It might even be worth giving up another pick to get him if we have to move up a couple spots. Our D-line is desperate for a playmaker/game wrecker.