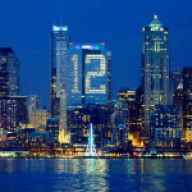 Joined

Mar 3, 2007
Messages

8,609
Reaction score

107
Location
No quarterback with as much rust as Geno had (by being a never play backup to Wilson), was going to come out of the chute firing on all cylinders, but let's be honest, he DID do well enough to earn more respect than he's gotten.
The very fact that Pete & John has shown their confidence in him by not only bringing him back, but giving him a raise to boot is kind of 'Telling'.
As far as Geno not being a "Spring Chicken", neither was Ben Roethlesbooger or Tom Brady, and I'll add, that Geno has a hell of a lot less wear & tear...Geno was playing with a system that was supposedly structured to RUSSELL WILSON'S style of 'Add Lib' play.
Now that the fetters are off of Geno, I'm curious as to how he and/or Drew might do with Waldren's system.
You missed my point completely. I was answering to Keasley45's comment that the coaches - "
forget that he was being told to just eat a sack instead of risking a turnover ANDbeing intentionally limited in his role against the Steelers and Saints"
I said he wasn't a spring chicken in relation to his experience and the length of time he had been in the league (8 yrs). Please explain how this relates to Ben R and Tom Brady? How have they been limited by their respective coaches? They have not. Smith is in nowhere near the class of those QBs.
You could make an argument on how he ranks against Nick Foles, Tyrod Taylor, Mason Rudolph, Blaine Gabbert, and Teddy Bridgewater. He'd be near the bottom of that list too.
Personally I have nothing against Geno Smith. I just don't believe after 8 years in the league that he will be anything more than what he is - a below average to average backup. I'll be happy to eat crow if I'm wrong about him but as of now I don't see it.
Last edited: