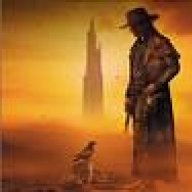 Joined

May 1, 2009
Messages

32,458
Reaction score

53
Location
What "fumbled ending"? Daenerys was obviously a megalomaniac all along. The fact that she freed slaves made people think she was a "good guy," but the signs of her being only interested in what was good for her were there all along. Multiple characters, including Daenerys herself, reflect on there being a history of mental illness in her family and wonder if she has it. With all the inbreeding, it's more than just idle speculation. Anyway, I have to laugh my ass off at the dumbasses who hadn't read the books and named their children things like "Khaleesi" during earlier seasons of the TV show.
Either your memory is just crap, or you enjoy rewriting history. The 5th book is still the last in the series that has been released as of yet, and at the end of that, Dany is in the grass fields with Drogon trying to get him to take her back to Meereen. Additionally, her mental thought processes in the books - which did not make their way into the TV show - show a sane and clear head throughout all five books released to date. Think about how many times she says to herself in the books, "If I look back I am lost" before making a decision that is good, and not crazy or bad.
I think you might just be making crap up about "book Daenerys", to be honest. Prove otherwise - list a chapter/page/whatever that is evidence toward your assertion. It's highly unlikely she was ever going to go "mad queen" in the books, though the TV show made damned sure she won't no matter what.
Now, back on topic. I had a lot of reservations about House of the Dragon up to its release. The first episode has mostly nullified them, however; it was a GREAT opening to the series. I thought a couple of times throughout the first episode that I recognized the cinematography and the music. Sure enough, I was absolutely thrilled to see Miguel Sapochnik as the director (look him up on IMDB, he basically directed at least half of the 10 greatest GoT episodes ever made), and Ramin Djawadi for the score. I can't wait to watch the next episode in <checks watch> 38 minutes and counting.