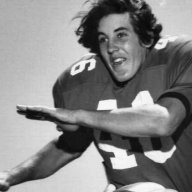 Joined

Aug 15, 2016
Messages

46
Reaction score

24
Any of this look familiar?



Do you ever painfully recall your own recent fandom past? Straining to comprehend your expensive and enigmatic quarterback's limitations and decline, especially in the face of emerging defensive trends? Did you cope by blaming coaches, scheme, personnel?

Mostly I wish for peace and good will among all Seahawks. We've just moved beyond the polarizing 'late Russ' years and into the rebuilding phase -- saddled with $50m dead cap and an unsettled quarterback future, but also stocked with young player potential as well as plenty more draft and salary cap resources on the horizon. Nevertheless, I do want to take a moment to call out those who endlessly whined and complained over the years about 'Peteball' and the coaching staff. Blaming them for being the cause of Russ's sack-filled tenure, for supposedly 'clamping down' on middle field passes, and for seeking offensive balance allegedly not because Russ would benefit from it (thinking he doesn't thrive in a pass heavy two-deep safety world) but because of obsolete thinking.






I have no idea what lies ahead for the Seahawks or for Russ. Geno has so far outplayed his role of a 'bridge quarterback', as the front office again proves the doubters wrong, but will it last? Russ will surely have better days, especially if he eventually adopts a more realistic view of his own strengths and weaknesses, which he refused to do in Seattle.

No matter what happens next, though, it's now safe to say 'the results are in': the constipated offense we witnessed over recent years in Seattle, across different coordinators, seems to have moved straight to Denver in the trade. At just the same time, the constipation of the offense in Seattle has suddenly and correspondingly lifted. The middle field is open for business again; the chains are moving more easily; and as a consequence passing rates are way up, ironically opening up the conditions for explosive running, as in today's game.

I hope everyone else is enjoying the weird ride that is this season, and that some of you are as relieved as I am not to be rehashing the same old debates (this post excepted!) and caught in the eternal Loop of Russ.
Last edited: