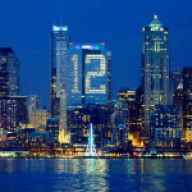 Joined

Mar 3, 2007
Messages

9,604
Reaction score

1,199
Location
'cause he got lazy and entitled.

Screaming at the refs until they tuned him out last year (his words, not mine) - didn't help.

Neither does the constant changing hair colour, the carted trips to the bathroom - and the myraid of other distractions that come along with him lately, including the 'atta boys' he gives lockett for bitching about contact and YAC.

He's not Full T.O. - but he has moments when he's awfully damn close.

That's why. And the other 8 reasons and examples I've already given. Hey - if you think he walks on water - good for you.

He's a good receiver when he puts his mind to it. He was asked to grow up and accept more responsibility and leadership last year - and he did for about 10 minutes - then back to the usual.

Hey - if you don't see this shit - no problem - I'm not trying to change your (or anyone else's mind). That's what I see. Don't matter - he's got a bit of competition up his ass this year. He's not slave. He's a 20 something with 100 million dollars in the bank.
I preface this as I like DK. He's good but has tremendous potential to be great. I compare him to AJ Brown. Physically they are both similar. The difference between the two is that Brown has been more consistent thus far in his career. DK can get there, I hope he does.