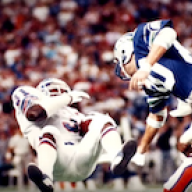 Joined

Nov 6, 2020
Messages

1,632
Reaction score

2,822
Location
Meanwhile Wilson is out playing Burrow and Herbert who are also 0-2. Who just sign bigger contract than Wilson.

Wilson has the same amount TD(3rd best) then those two combine. Higher passer rating(4th highest). Higher completion percentage. Has more yards rushing. Broncos has a combine loss of just 3 points.
Let's imagine the NFL with an "amnesty clause" in its CBA like the NBA had in the 2005 and 2011 CBAs.
How many people here think that the Bengals or Chargers would want to use it to get out of their contracts with Burrow and Herbert right now?
Right. I don't think so either.
Now... how many think the Broncos wouldn't be moving at the first opportunity to get out from under the stupid, stupid extension they gave Wilson before he'd ever played a down for them?
Sure, any big contract can end up being a disappointment, but if you had to bet right now on one of those three teams (Bengals, Broncos, Chargers) bitterly regretting its big recent QB contract extension, which one would it be? There's a very obvious choice here.
Burrow's just hitting the age at which athletic performance peaks, and he's the kind of pocket passer who can remain good for years after his athletic peak. Herbert is also a good QB and he's still on the upward-sloping part of the aging curve. Wilson was terrible in 2022 and is at an age at which a precipitous drop in performance, even from his current bottom-half-of-the-league level, wouldn't be shocking.