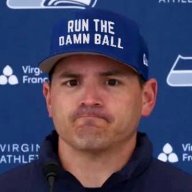 Administrator
Administrator
Moderator
Joined

Feb 23, 2007
Messages

18,231
Reaction score

5,578
Location
A clipping from Michael-Shawn Dugar in his piece in The Athletic today. This has become an ongoing problem with our offense. Certain situations and reasons may explain some of the issues (injuries as example) but it's become a problem now lingering into this season. Currently we are ranked 7th in offense in the league. Imagine were we would be ranked if we could kick this 3rd down problem?
Biggest weakness: Third down offense

​After the game Monday night, quarterback Geno Smith was asked where he'd like to see the offense improve coming out of the bye.

"Consistency," Smith said. "I would say being better on third downs, (that's) still an area we need to improve."

There's only one offense worse than the Seahawks at converting on the third down: the Zach Wilson-led New York Jets. Seattle has converted only 28.9 percent of its attempts on third down (the Jets are at 26.5 percent). The league average is 39.6 percent.

In Monday's win over the Giants, Seattle went 3-for-12 on third down, though only two of those conversions truly extended drives. The first was Drew Lock's 51-yard completion to tight end Noah Fant on third-and-10 in the first half. In the third quarter, Smith completed a play-action pass to receiver Tyler Lockett for 23 yards on third-and-1. The other conversion was a Ken Walker III run for three yards on the final play of the first half.

Seattle's third-down failures once again featured a myriad of issues. Walker was stuffed on third-and-short. Left tackle Stone Forsythe was beaten on Smith's only third-and-medium dropback. With Smith in the game, Seattle went 0-for-5 on third-and-long. Defensive end Kayvon Thibodeaux twice beat right tackle Jake Curhan for sacks. Smith threw a third-and-7 pass into the dirt in the third quarter and had a third-and-8 completion to DK Metcalf called back in the first half because the receiver didn't re-establish himself in the field of play.

Geno Smith would like to see the offense perform better on third downs. Of his 84 completions, 43 have resulted in first downs this season.

Seattle's backup tackles have played well filling in for Charles Cross and Abe Lucas, but they haven't been able to consistently hold up on those long third downs. The Seahawks also don't seem equipped to help their tackles by getting the ball out quickly in those situations. Seattle ranks third in yards after catch per completion on third down (6.6), but that number is inflated by Fant's catch and run from Lock. With Smith on the field, that YAC per completion number on third down is 3.79 yards, much closer to the bottom of the league and below the league average of 4.63.

The Seahawks have playmakers. They just aren't getting them the ball in space on third down to help the offensive line. Getting Cross back in Week 6 should help, and Lucas' eventual return should as well, but Seattle still needs to be better at utilizing its playmakers on third down.