Last week I attended my first game of the season, a 58-0 destruction of Arizona. On Friday night the wife [aka Amy] and I flew up to Toronto for the first time. I passed through customs in my Lynch jersey and when the agent asked why we were visiting Canada I replied simply 'We are here to see the Seahawks win.'
On Saturday we spent a few hours doing a city bus tour, then walking around the Distillery Area / Xmas Village. It was setup with all kinds of outdoor shops and was nice, though it was a little chilly. Eventually we made our way into some bar where we ran into 6 Seahawks fans including Dan the Marine and his girlfriend. We spent a few hours drinking Canadian beer and talking. I tried to get the bartender to let me mount a 12th man flag on the bar but he wouldn't go for it.
Saturday night we had dinner at a nice bistro, then around 10pm hooked up with Mr. & Mrs. Tech Worlds, bestfightstory and mystermatt. I was a few drinks behind them and couldn't really catch up. The drink special was a mixture of canadian whiskey, apple juice and maple syrup garnished with cranberries. A funny moment was when Matt bit into one thinking it was a cherry. I was also impressed by bestfightstory who wore 4 hats at the same time.
We turned in around 12:30...and headed down to the Rogers Centre around 10am on Sunday. There were plenty of Hawks fans out on the street. I went into the hotel that is part of the stadium and got a great view of the cheerleaders warming up on field.
Around 11:30am we hit the Fox & Fiddle with the crew from the day before as well as seatown81, beerhawk, Shawn P. from Toronto and special guest the Hawkblogger [kudos for flying all night to make it]. We had a great time watching the early games and getting ready.
I headed into the stadium early as I had never been there. It was a typical dome, seats were very small and not much going on stadium wise. Lots of Blue Jays stuff around...and then put in the Bills stuff for the game.
I would say the fans in the stadium were 70% Bills 30% Hawks. Kind of hard to tell since the Hawks fans had 10x as much to cheer about. In general the crowd was dead - nobody stood at all though there obviously wasn't much drama in the game. the Hawks fans were great everytime we scored or got another turnover.
You all saw the game so no need for a recap. I thought the wolf grey jerseys looked great and Wilson is just a super stud. I also got to see Flynn play for the 2nd time this year...though he didn't have much to do this week.
Some of the excitement of the day was obviously subdued by the 49ers game that night, but it was still a great trip and a great win. Hawks are now winning 108-17 in games I attend this season. If only I had any money left and no kids I might just keep flying to all these games.
Here are some pics from Sunday.
Here are some degenerates we ran into on the trip.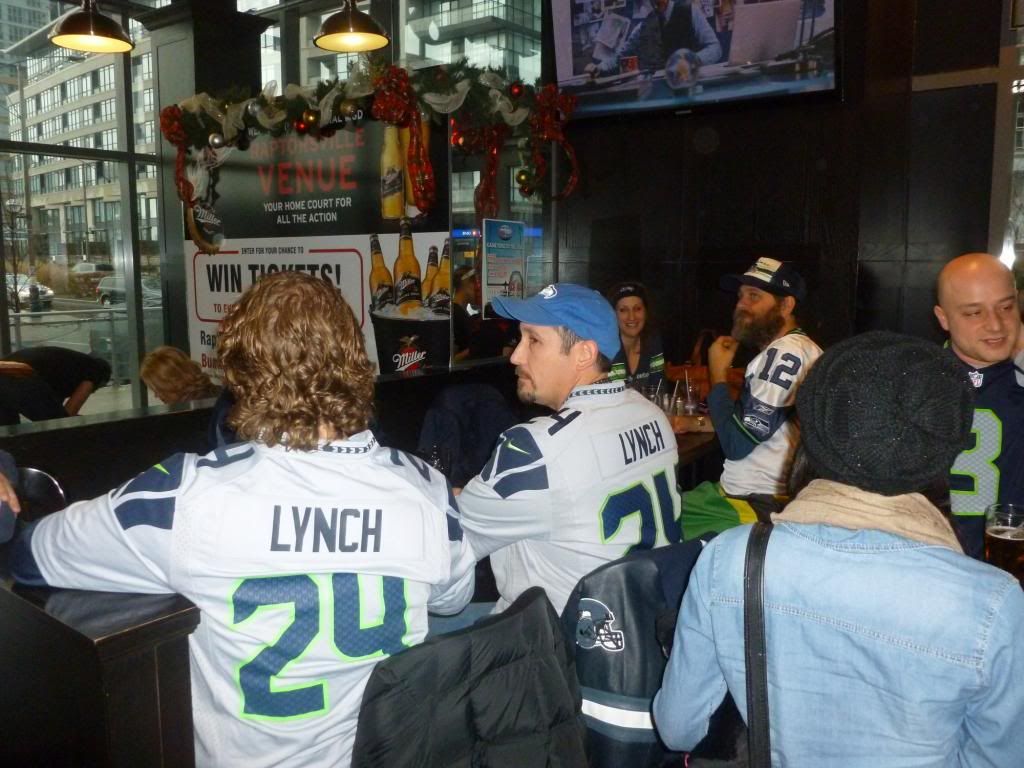 Group shot of the Twelves before the game.
Shot of the field from inside the hotel.
Seahawks fans down on the rail pre-game.
Game shot.
Halftime show - Gangham Style.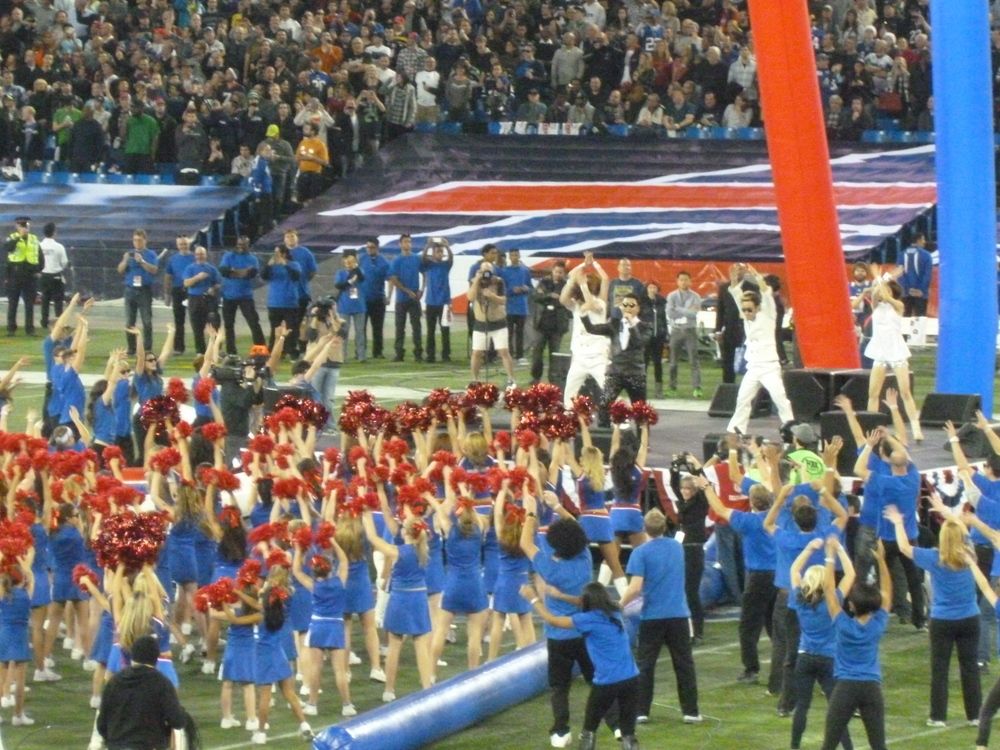 Nice sign.
Amy and I celebrating the victory!