On a Buffalo Hunt …
5 Keys to Victory for the Seahawks vs. the Bills …
After roasting the Cardinals over a slow spit this past Sunday, the Seahawks once again take flight for a 1pm East Coast meeting with the Buffalo Bills. While the Seahawks are flying high … the Bills, losers of 5 of their last 7 games, are still struggling to find themselves. Can the Seahawks take advantage of a team that looks very much like lame and easy prey? Here are 5 Keys to Victory for the Seahawks this Sunday …
Key #1: Don't Spill On the Road …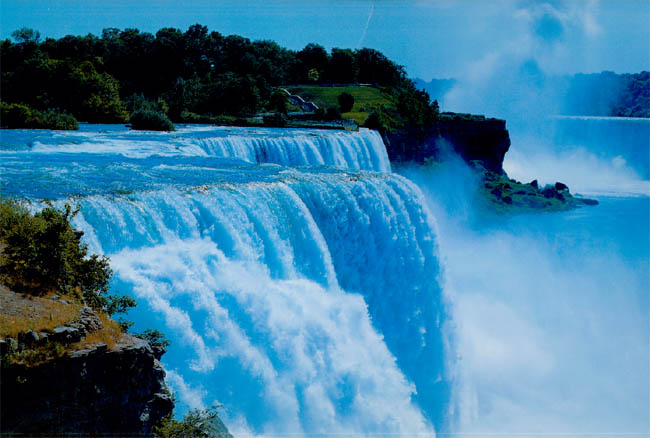 You don't have to be a genius to know that the most important player that you have to stop on the Bills Offense is running back C.J. Spiller. Capable of running a 40 yard dash in 4.27 seconds, Spiller (5'11" 200 Pounds) is simply put one of the fastest and most explosive players in the NFL. This season, the former Clemson star is averaging an incredible 6.6 Yards/Carry (2nd in football only to RGIII) and his 11 rushes of 20 yards or more is 2nd only to Adrian Peterson. To put it in to context as to just how good Spiller has been,
ProFootballFocus.com
noted that a full 44.1% of his yards have come on gains for 15 yards or more … AND, according to them, Spiller is the 2nd most elusive back in the league.
Football Outsiders concurs
, as they have the Bills ranked as the 2nd best team in the league in 2nd Level Yards (yards earned 5-10 yards beyond the Line of Scrimmage).
For a team like the Seahawks that allowed monster rushing days to Frank Gore (131 Yards and 5.5 Yards/Carry) … Adrian Peterson (182 Yards, 9.0 Yards/Carry, and 2 TD) … and the Miami Dolphins (189 Yards, 6.8 Yards/Carry, and 2 TD) … those numbers should give Hawks fans pause.
Spiller has also been a heck of a weapon coming out of the backfield for the Bills this season as well. This season, he has been targeted 40 times and has 34 Catches to show for it for 354 Yards (a 10.4 Yards/Catch avg.). Though he has only 1 touchdown reception this season, 8 of those receptions have gone 20 Yards or more (tied with TE Scott Chandler for the most on the team).
Looking at the numbers reveals that Buffalo has run the football 362 times this season (10th most attempts in the NFL) … and passed the ball 407 times (tied for 24th Most). So, they have run the football 47% of the time … and passed it 53% of the time this season.
Of the Bills 362 total carries this year, 144 of them have gone to C.J. Spiller (39.77%). If we also consider the fact that 34 of the Bills 253 receptions (13.44%) have gone to Spiller … it becomes abundantly clear that he has accounted for 28.94% of their total offense.
With word coming down this week that RB Fred Jackson has been placed on
Injured Reserve with a lower leg injury
, those numbers figure to significantly increase beginning on Sunday. Jackson was 2nd on the team with 115 Rushes (31.76% of the Bills total rushes) … and like Spiller had 34 receptions as well. So, Seahawk defenders can expect a steady diet of Spiller all day long.
A look at the Bills Rushing stats from this year is fairly revealing …
2012 Bills Rushing Performances
Week (Date)
Opp.
Result
Opp. Rush Yds/G Allwd
Car
Yards
Yds/Att
Long
TD's
Game Notes
1 (9/9)
at Jets
28-48(LOSS)
136.5 (29th in NFL)
26
195
7.5
56
1
Spiller 169 Yds/1TD
2 (9/16)
vs. Chiefs
35-17(WIN)
131.2 (27th in NFL)
36
201
5.6
38
2
Spiller 123 Yds/2TD
3 (9/23)
at Browns
24-14(WIN)
120.5 (18th in NFL)
34
138
4.1
22
0
T. Choice 91 Yds
4 (9/30)
vs. Patriots
28-52(LOSS)
100.8 (8th in NFL)
27
98
3.6
14
0
Spiller 33 Yds
5 (10/7)
at 49ers
3-45(LOSS)
90.8 (tied 2nd in NFL)
19
89
4.7
35
0
Spiller 1 Car for 35 Yds
6 (10/14)
at Cardinals
19-16 OT(WIN)
140.5 (30th in NFL)
33
165
5.0
33
2
Spiller 88 Yds/1 TD
7 (10/21)
vs. Tennesee
34-35(LOSS)
127.0 (tied 27th in NFL)
24
166
6.9
20
0
Spiller 70 Yds
8
BYE
NA
NA
NA
NA
NA
NA
NA
NA
9 (11/4)
at Texans
9-21(LOSS)
90.8 (tied 2nd in NFL)
15
74
4.9
22
0
Spiller 39 Yds
10(11/11)
at Patriots
31-37(LOSS)
100.8 (8th in NFL)
28
162
5.8
14
2
Jackson 80 Yds/2TD--Spiller 70 Yds
11(11/15)
vs. Miami
19-14(WIN)
102.1 (9th in NFL)
31
120
3.9
20
0
Spiller 91 Yds
12(11/25)
at Colts
13-20(LOSS)
120.6 (19th in NFL)
23
135
5.9
41
0
Spiller 107 Yds
13(12/2)
vs. Jaguars
34-18(WIN)
145.7(31st in NFL)
46
232
5.0
44
0
Jackson 109 Yds --Spiller 77 Yds/1TD
14(12/9)
vs. Rams
12-15(LOSS)
110.3 (13th in NFL)
20
61
3.1
14
0
Spiller 37 Yds
As you can see from the numbers above, there is a
direct correlation
between the strength of defense that the Bills have faced and their overall run production in a particular game. The Patriots in Week 10 and the Dolphins in Week 11 are the only 2 quality defenses in which the Bills have actually put up good numbers against. In every other instance, they racked up tons of yards against bad run defenses … and struggled against the good ones.
While Spiller and the Bills run offense is admittedly explosive (All but 3 of the Bills longest runs this year are from Spiller) … they CAN be stacked up at the line of scrimmage in critical down situations. While the Bills are only stuffed 17% of the time (7th Best in the NFL) … they are 29th in the league in terms of Power Ranking (3rd or 4th Down runs of 2 yards or less that result in 1st Downs), being successful only 50% of the time.
Of all the keys heading in to this game, Seattle's ability to stop the run will probably determine whether they win the game or not. Let's take a more in depth look at the Bills Offense vs. the Seahawks Defense …
Key #2: Take Off With the De-fense – Take Off … It's a Beauty Way to Go …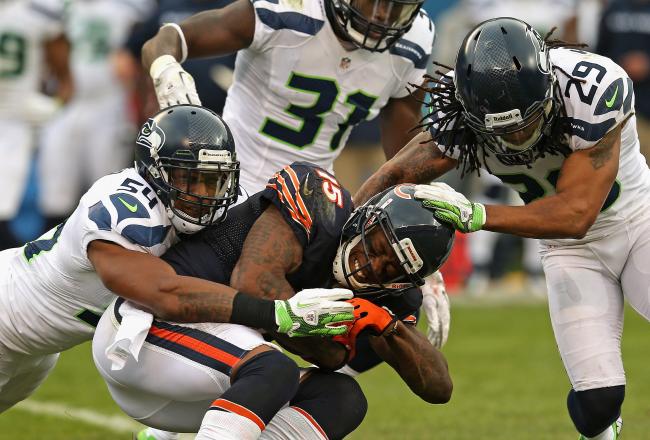 It's hard coming down off the ceiling after a 58-0 pasting of what was arguably the worst time in football. A large part of what allowed the Seahawks to dominate the Cardinals so much was the fact that they have easily the worst trio of quarterbacks in the game. That's significant for Seattle's defense because this Sunday they won't face near the same level of incompetence. While the Bills are certainly far from being mentioned among the elite teams if the game … their QB situation is far better than the Cardinals. Here is a quick look at how Ryan Fitzpatrick compares with his Seattle counterpart …
Ryan Fitzpatrick vs. Russell Wilson


QB
Pass Comp
Pass Att
Comp%
Yards
TDS
INTS
QB Rating/NFL Rank
Total QBR/NFL Rank
Fitzpatrick
253
406
62.3%
2,718
21
13
85.8 (18th)
46.6 (26th)
Wilson
208
330
63.0%
2,492
20
9
94.9 (7th)
64.8 (10th)
On the surface, Ryan Fitzpatrick's numbers appear to compare pretty favorably with Russell Wilson's. But as you start to break them down by quarter though, the differences start to become apparent …
Ryan Fitzpatrick vs. Russell Wilson QB Rating (By Period)


1st Half (NFL Rank)
2nd Half (NFL Rank)
4th Quarter (NFL Rank)
Ryan Fitzpatrick
89.9 (13th)
81.3 (23rd)
68.9 (31st)
Russell Wilson
102.5 (6th)
87.0 (15th)
97.9 (6th)
As you can see, Ryan Fitzpatrick has a far higher QB Rating in the 1st Half than the 4th Quarter. To put it in to perspective, Matt Cassel (70.5), Mark Sanchez (87.0) and John Skelton (84.3) ALL have better 4th Quarter QB Ratings than Fitzpatrick.
While Fitzpatrick has passed for 13 TD passes in the 2nd Half this year (tied for 4th Most) … he has as many interceptions in the 4th Quarter as he does TD's (6).
And unlike Russell Wilson, Fitzpatrick has definitely cooled a bit of late. In the Bills first 7 games, Fitzpatrick threw for 15 TD's. Over their past 6 games however, he has thrown for only 6 TD's. They have lost 4 of those 6 games. Before we move on, let's take a moment to introduce you to Fitzpatrick's top targets this year …
2012 Bills Top Receiving Targets


Receiver
Size
Catches
Yards
Yards/Catch
TD's
#Catches of 20 Yds+
% of Passing Off


WR Steve Johnson
6'2" 207 Lbs
61
776
12.7
5
7
24.11%
WR Donald Jones
6'0" 208 Lbs
41
443
10.8
4
4
16.21%
TE Scott Chandler
6'7" 260 Lbs
37
488
13.2
6
8
14.62%
RB C.J. Spiller
5'11" 200 Lbs
34
354
10.4
1
8
13.44%
WR T.J. Graham
5'11" 188 Lbs
24
236
9.8
1
2
9.49%
Steve Johnson
(former 7th Round Draft pick out of Kentucky) has been Fitzpatrick's go-to guy for most of this year. Though he only runs a 40 yard dash in 4.59 seconds, he can get deep, as he had receptions of at least 20 yards in 7 games this year (including a 63 yard catch against the Colts). He's only had 1 TD over the last 6 weeks, but is still someone to keep an eye on.
Like Johnson, tight end
Scott Chandler
is another that can surprise. If you'll notice, he leads the team in catches of 20 yards or more, as he too has had at least one in 7 of the Bills games this year (including a 20 yard pass against the 49ers). He was a limited participant on Wednesday with a groin issue, but is listed as Probable for this game.
We talked extensively about C.J. Spiller above. He should be the #1 focus for Seattle's defense this Sunday.
Donald Jones
(who was an undrafted FA out of Youngstown State in 2010) is mostly a short to intermediate threat. He's a poor man's Doug Baldwin. After being a limited participant in Friday's practice (calf issue), he's listed as Questionable for this game. If he can't go, 30 year old journeyman Ruvell Martin (the former Seahawk) could get the nod.
T.J. Graham
(this year's 3rd Round pick out of North Carolina State) is a guy that the Bills liked so much they gave up a 7th Round pick to move up 2 spots in the draft to get him. He doesn't have true deep speed (though he has been clocked at 4.41 in the 40), but has drawn some comparisons to Steelers' standout Mike Wallace. As the fastest receiver on the Bills team, he did start for Donald Jones (due to injury) in the Jacksonville game and hauled in a 51 yard reception. Though he's not done much yet – I would say that this is the Bills' version of Titus Young the Seahawks should watch for this week.
Friday it officially came down that Walter Thurmond, limited in practice after tweaking his hamstring on Wednesday, was ruled out for Sunday's contest. (Can we praise Richard Sherman enough for his decision to appear his suspension?) Despite that fact, I see this as a group that Sherman, Jeremy Lane, Byron Maxwell and crew should match up very well against. Like Sherman, Byron Maxwell (6'1" 207 Pounds) has excellent size, is fast (ran a 4.43 at the Combine), and plays a very physical style of football – exactly why Carroll and company drafted him and why he is on this roster. I don't know how many of you noticed, but he had a pretty good game against the Cardinals. In limited duty last week, Maxwell had 3 tackles … 1 Pass Defensed … and forced not just 1 … but 2 fumbles. That trend is a continuation of the kind of production he had in college, as during his Senior season at Clemson, Maxwell had 46 tackles, 2.5 Tackles for Loss, an interception, 7 Passes Defensed, and 3 Forced Fumbles. Jeremy Lane also showed promising flashes in that game as well. Lane and Maxwell got good playing time against the Cardinals last week -- this Sunday, they will obviously be put to the test by Fitzpatrick and the rest of the Bills coaching staff.
The numbers are fairly revealing not only about this Bills offense in general … but also about who Ryan Fitzpatrick is as a quarterback. If you'll notice, C.J. Spiller has caught 34 passes on the year – the exact same number of passes that Fred Jackson had ironically. A full 26.87% of all receptions (over ¼ of them) have gone to Buffalo running backs this year. The numbers bear that out, as the Bills passing attack averages a mere 6.7 Yds/Reception (24th in the league). Russell Wilson, on the other hand, is 7th in the league with a 7.6 Yds/Reception average. So, a large reason that Ryan Fitzpatrick has such a high completion percentage (63.2%) is because a TON of his completions are the result of screen passes and short high percentage patterns. In the end, Fitzpatrick profiles as an Alex Smith/Mark Bulger game-manager type -- the kind of quarterback that AT BEST may not LOSE you games … but also isn't a guy who's going to be able to consistently put a team on his back and WIN a lot of games either. ESPN's Total QBR statistic bears that out. On the Total QBR scale, 50 is considered an NFL average QB … while a QBR of between 65-70 is Pro Bowl Level. Russell Wilson's current Total QBR is 64.8 … Ryan Fitzpatrick's is 46.6 – a tick below average.
Given all that and the nature of the receivers they are going up against and the Seahawks injury situation in the secondary, Seattle's game plan will probably be all about containment and not allowing themselves to get beat deep. Barring any more unforeseen injuries (Kam Chancellor didn't practice because of a groin issue on Wednesday, but he should be good to go after being a full participant on Friday), that shouldn't be a problem for this secondary. To put it in to perspective for you, Calvin Johnson leads the NFL with 30 receptions of 20 yards or more this year. Bears receiver Brandon Marshall has 17 receptions of 20 yards or more (which ranks 6th best in the league). Chandler's and Spiller's 8 catches for 20 yards or more … is tied for 47th overall.
Back to looking at Buffalo's offense as whole …
The Bills started off the season fairly hot offensively, averaging 28.75 Points/Game over their first 4 games of the season. In their 9 games since … they have averaged a mere 19.33 Points/Game. That would rank among the bottom 10 teams in the league.
To put it further in to perspective just how inept their offense has been, the Bills scored 34 points against the Titans (who have allowed the 7th Most Passing Yards) and 31 Points against the Patriots (who have allowed the 4th Most Passing Yards). Outside of those two games though, the Bills have averaged only 15.57 Points/Game (in those 7 other games) since their Week whooping by the 49ers. Only Kansas City (15.0 Pts/Game) and Arizona (14.3 Pts/Game) would be worse.
And things most certainly HAVE gotten worse for this team as of late. Let's further narrow the klieg light on a key matchup heading in to this game …
Key Matchup: Buffalo's Offensive Line vs. Seattle's Defensive Line …
Center Eric Wood and Right Tackle Chris Hairston were both hurt in the Jacksonville game and missed last game against the Rams. Hairston was placed on Injured Reserve with an ankle injury that he suffered in the Jacksonville game … while Wood suffered a partially torn MCL in that Jacksonville game. As a result, OT Sam Young (6'8" 316 Pounds) and C David Snow (6'4" 303 Pounds) made their first career NFL starts against the Rams this last Sunday. The result -- the Rams had 4 Sacks … 11 QB Hits … 8 Tackles for Loss … limited the Bills to a mere 308 yards of total offense … and yielded only 12 points.
Wood did not practice on Wednesday and though the official timetable was at least 2 weeks until he was scheduled to return … it's highly unlikely that he's going to play the rest of the year. On Friday, he was officially ruled out of this game. RG Kraig Urbik was expected to slide over to center for the Rams game … but they decided to go with Snow instead. Both Urbik and LG Andy Levitre (knee) were limited participants in practice all week with knee issues. Levitre was still listed as Questionable (he was still limited) while Urbik was upgraded to Probable after Friday's practice.
Seattle's Front 7 could potentially have a hey-day against the Bills, as they are basically holding things together with bailing wire at this point. Though it's tempting to think that the Seahawks should bring the heat and blitz the heck out of Fitzpatrick, I don't necessarily believe that would be the best strategy against this group. Remember, the 49ers Frank Gore sprung free on a few of his big runs when the Hawks did bring pressure … as he was able to dart right through the gap that the defender had just vacated. With an explosive incredibly fast back like C.J. Spiller who can and has busted off long runs this year … gap discipline and closing down those running lanes would be more what I would suggest from Seattle's D-Line with more of the onus falling on the linebackers to clean things up. With Red Bryant still dealing with plantar fasciitis and Kam Chancellor a bit banged up because of a groin issue … Brandon Mebane, Alan Branch, Bobby Wagner, and Malcolm Smith become much more key to this game. Since stepping in for Leroy Hill (who went out with an ankle injury) in the Arizona game, Malcolm Smith has had the look of a guy who could start and maybe even star. He's looked far quicker than Hill at this stage of his career and has shown a real nose for where the ball is going to be. Though he's back to starring in a reserve role this week (as Hill is back as the starter for now), they're going to need guys like Smith to step up in this game.
Key #3: Be Special …
For the first time all year, we turn our attention to special teams. Why? Because the Bills actually happen to have put up some pretty good numbers in most special teams categories. Here is a quick look at how the Bills and Seahawks compare …
Offensive Kickoff Return Average …

Bills … 27.7 Yds/Return (4th Best)

Seahawks … 28.4 Yds/Return (3rd Best)

Offensive Punt Return Average …

Bills … 17.2 Yds/Punt Return (#1 in the NFL)

Seahawks … 8.5 Yds/Punt Return (19th in the NFL)
The Bills have been fairly potent returning the ball thanks in large part to CB Leodis McKelvin, who has been a weapon – both as a kick and a punt returner. While McKelvin has averaged 28.3 yards per kickoff return this year (5th Best in the league) … he is the #1 Punt Return specialist in the NFL this year, sporting a league leading 17.2 yards/punt average … and having taken 2 all the way back to the house for touchdowns. Coming in to the league, he was drawing comparisons to Chicago's Devin Hester. Seattle would do well to avoid kicking directly to him if at all possible. And Seattle's special teams have done a fantastic job on coverage all year long.
Seattle has allowed an average of 21.7 Yards/Kickoff Return this year (tied for 6th Best).
The longest return they have allowed all year long is 40 yards (4th Best in the league). And in many instances, they have allowed none at all, as kicker Steven Hauschka has 29 touchbacks (8th Best in the league) this season.
On punt coverage, Seattle has been solid as well. Seattle has allowed 244 Punt Yards for an average of 9.0 Yards/Punt this year (tied for 11th Best in the league). Thanks to Special Teams standouts like Jeremy Lane, Seattle has had 28 punts downed inside the 20 this year (tied for 5th Best in the league). The Seahawks have not allowed a punt to be returned for a touchdown yet this year. They're scheduled to be facing the NFL's best in McKelvin though (IF he plays – more on that later), so the Hawks will have to continue to be solid on coverage.
On the other side, the Seahawks could experience some good success in the field position battle on Sunday. While the Bills have done relatively well in covering kickoffs (their 23.0 Yds/Return Allowed is tied for 11th Best) … their punt coverage teams are a completely different story. The Bills come in to this game having allowed 471 Punt Yards (2nd worst in football). The 15.7 Yards/Punt they have yielded this year is by far the WORST in the league. Though Leon Washington hasn't had a good year returning punts so far (his 8.7 yards/punt ranks 18th), I could very easily see him having some big returns this Sunday.
Key #4: Keep An Eye Out for Charging Bison …
Though the Bills are 5-8 on the season, they are still a team that can gore the opposition on defense. Let's take a quick look at some of the numbers before we start talking about individual match-ups …
Bills vs. Seahawks Defense Comparison (w/NFL Rankings)
Category
Bills
Seahawks
Rushing Yards Allwd
1,748 (28th)
1,370 (10th)
Rushing Yards/Game Allwd
134.5(28th)
105.4(10th)
Tackles for Loss
46 ( )
32
Forced Fumbles
18 (tied for 4th)
17 (tied for 6th)
Rushing TD's Allwd
18 (tied for 32nd)
7 (tied for 6th)
Passing Yards Allwd
2,959 (14th)
2,552 (4th Fewest)
Passing Yds/Game Allwd
227.6 (14th)
196.3(4th Best)
Pass Comp% Allwd
57.8% (6th Best)
58.5% (8th Best)
3rd Down Conv%
43.7% (30th)
40.5% (22nd)
1st Downs Allowed
290 (3rd MOST)
237 (7th Fewest)
Passing TD's Allwd
22 (tied for 20th)
12 (tied for 1st Fewest)
Sacks
31 (tied for 12th Most)
32 (tied for 10th Most)
[tr]
Interceptions
11 (tied for 17th)
14 (12th)
Passes Defensed
77 (13th)
76 (14th)
Give Away/Take Away Margin
-7 (tied for 22nd)
+8 (tied for 8th Best)
Points Allwd/Game
27.1 (21st)
15.5 (3rd Fewest)
Let's start right up front looking at some of the biggest match-ups of the day …
LDE Mario Williams vs. RT Breno Giacomini …
At 6'6" 292 Pounds, defensive end Mario Williams is one of the best defensive linemen in the game. At just 27 years of age, the former #1 overall pick of the 2006 NFL Draft has 63.5 career sacks … 13 forced fumbles … 2 All Pro selections (2007 and 2008) and 2 Pro Bowl selections (2008 and 2009) on his resume. Though he struggled with injuries the first part of this season, he is ending well and once again is putting up Pro Bowl numbers, as he has 10.5 Sacks and 3 Tackles for Loss on the stat sheet. He has also been very good at batting down passes, as he has 5 Passes Defensed on the season. The one man who's truly got to come up aces on Seattle's offensive line is the one man who Williams is facing – Breno Giacomini. So far this season, Giacomini (6'7" 318 Pounds) has been credited with allowing 2 sacks … and has been penalized 11 times (tied for 3rd Most). Giacomini is a street brawler who brings a real nasty element that's needed on this team. But he's got to play with a level of control as well – especially on the road. The Hawks are certainly going to need him to dominate in this game … but also to play with some semblance of control against Williams. We'll see how he does against him this Sunday.
RDT Kyle Williams vs. Max Unger and John Moffitt
RDT Kyle Williams (6'1" 303 Pounds) is another big bison that bears watching. The former 5th Round choice out of LSU may not have garnered a whole ton of attention heading in to the NFL Draft, but he is one of the better defensive tackles in the game. Like Mario, Kyle Williams also went to the Pro Bowl in 2009 and 2010 and made All Pro in 2010 as well. So, he can be a disruptive force right up the middle. This season he has 5.0 Sacks and 6 Tackles for Loss – numbers that should get him consideration for a 3rd trip to Hawaii. Seattle center Max Unger is having a very quiet season, as his name doesn't get mentioned very often. For an offensive lineman, that's a very good thing, as he is also having a Pro Bowl caliber season. John Moffitt, on the other hand, has struggled at times. On Sunday, both guys will have to bring their lunch pails against Williams.
Bills Secondary vs. Seahawks Receiving Corps …
The Seahawks enter Sunday's contest with the Bills with concerns surrounding the health of Sidney Rice. At Pete Carroll's press conference on Wednesday, Carroll revealed that Rice has been dealing with a toe issue all season long. He was subsequently been wearing a walking boot all week long and sat out Thursday's practice. Though
Carroll said he expects Rice to play
this Sunday, Seahawk fans are admittedly nervous. Well, let me break down this match-up further and see if I can provide a little oxygen and a reason to breathe a bit easier.
The biggest bison of the Bills secondary that Gus Bradley and the Hawks should concern themselves with is
CB Stephon Gilmore
(6'0" 190 Pounds). Gilmore (the Bills 1st Round Draft Choice out of the U. of South Carolina) is among the NFL leaders in Passes Defensed (his 16 PD's ranks 7th Best) ... but he has also drawn his share of flags as well (11 penalties including 3 for holding and 4 for pass interference). If Rice plays, he'll undoubtedly find himself opposite Gilmore for much of the day.
SS George Wilson
(6'0" 214 Pounds) is the Bills version of Kam Chancelor – a good run defender who can bring the wood on receivers crossing the middle as well. He's 2nd on the Bills with 77 Tackles and has 5 Passes Defensed on the year.
Those guys are the only members of this secondary who aren't question marks for this game though …
FS Jairus Byrd
(5'10" 203 Pounds) is a very talented player who bears watching IF he ends up playing. His 5 interceptions on the season is tied for 5th in the NFL and he is very capable of separating opposing receivers from the ball (he has 6 Passes Defensed this year). He did not practice on Wednesday and was limited in practice on Thursday and Friday with a shin issue. He's listed as Questionable and still may be a bit hobbled even if he does play.
Starting LCB Leodis McKelvin
(5'10" 185 Pounds) is not only a great return man – he is also a quality cover corner who had the 7th highest 40 time at the Combine heading in to 2008 Draft (4.38). Though he isn't a real physical corner, he has decent reactions, ball skills, and obvious catch-up speed. He has 20 tackles, 1 interception, and 3 Passes Defensed on the season. McKelvin didn't practice on Wednesday and was limited in practice on Thursday and Friday with a groin issue. If he doesn't start, the air starts to get a bit thin.
CB Ron Brooks
(5'9" 190 Pounds), this year's 4th Round Draft Choice out of LSU, took over as the starter in the Jacksonville game at LCB because Leodis McKelvin had back spasms the morning of the game.
He got toasted in that game
, as he gave up several completions including a 5 Yd TD to Cecil Shorts. Brooks was also flagged for a 24 yard Pass Interference … a 5 yard illegal contact … and a 15 yard unneccesary roughness penalty. Brooks himself was limited in practice Wednesday, Thursday, and Friday with a hip issue. He's listed as Probable for this game though.
CB Justin Rogers
(5'11" 181 Pounds) was limited in practice on Wednesday, Thursday, and Friday with a foot issue. He's listed as Gilmore's backup and as Questionable for this game.
CB Aaron Williams
(6'0" 199 Pounds) has 23 tackles and 5 Passes Defensed in a reserve role this year. He's been dealing with a knee issue, but is listed as Probable for this game.
So, YES Sidney Rice's health is a bit of a concern … BUT the Bills secondary as a whole is even MORE of a concern heading in to this weekend. In the event Rice can't go, I'd honestly look for greater reliance upon the Seahawks Tight Ends. Anthony McCoy had a very good game against the Cardinals, getting open deep and showing that he could potentially be a weapon in the passing game. Against this crew on Sunday, I believe Seattle could get by with Golden Tate, Doug Baldwin, Zach Miller, and Anthony McCoy if for some reason it's determined Rice needs the rest.
Here are a few other tantalizing Tatanka from the Bills Defense to keep an eye on this Sunday …
LDT Marcell Dareus
(6'3" 331 Pounds) was the Bills 1st Round Draft choice in 2011 and the highest draft pick (#3 overall) since the team selected Bruce Smith 1st overall in 1985. The former Alabama product had 5.5 sacks in his rookie campaign – most by a rookie since Aaron Schobel. Dareus has 3.5 sacks and (like Mario Williams) has batted down 5 passes heading in to this game, so he could potentially be an issue. However, Dareus was limited in practice on Thursday with a shoulder issue after not practicing at all on Wednesday -- so stay tuned.
RDE Shawne Merriman
(6'4" 261 Pounds). The former Charger star has lost a lot of his luster since 2006 when he led the NFL in sacks (17.0) ... but he still has talent. The Bills re-signed him back on October 15th after cutting him in training camp due to injuries. Though he has recorded just 1 sack and 7 Tackles in 7 games thus far … at just 28 years of age I don't at all preclude the possibility that he could regain some of his old form. Even if 75% of the old Merriman shows up on Sunday – that could be a problem.
WLB Nick Barnett
(6'2" 228 Pounds) leads the Bills with 92 Tackles and has 2.0 Sacks and 5 Tackles for Loss to boot. Barnett didn't practice either Wednesday or Thursday with a knee issue, so that could mean more playing time for Bryan Scott – our next dark horse.
LB Bryan Scott
(6'1" 220 Pounds) – the former Falcon, Saint, and Titan is a good veteran linebacker (31 years old) who has been productive in limited playing time. He has 7 Passes Defensed coming in to this game, so is good in pass coverage as well as being a capable tackler (has 54 Tackles).
Russell Wilson appears to be on the brink of becoming one of the true elite quarterbacks in this league. As a rookie, his 94.9 Passer Rating is the 7th Best in the league … and he stands a mere 6 TD passes from tying the All Time Record for Most TD's by a Rookie QB that Peyton Manning set in 1998. He has shown that he can find the chinks in the armor of opposing defenses – and despite what some of the numbers I listed above suggest, there ARE weak spots that Wilson, Darrell Bevell, and the Seahawks can exploit. Still, looking at the numbers above there is one obvious offensive strategy that I would suggest …
Key #5: Make the Bills Pay the Price For Their Lack of Vision …
A storm is brewing – one that has been silently stewing and steadily building for 2 years now.
In October of 2010, the Bills made a fateful decision to trade then 3rd string running back Marshawn Lynch to the Seahawks for a 4th Round Choice in 2011 and a 5th Round Draft Choice in 2012. Though those picks begat starting Right Tackle Chris Hairston and opened up the door for more playing time for C.J. Spiller, one has to wonder what in the world Bills' management was thinking.
All week long Marshawn Lynch has shied away from reporters, refusing to talk to them about his feelings regarding playing against his old team.
Though he's not talking, you know that Lynch would LOVE to drive a spear through the Bills heart this Sunday and prove to them definitively that they made a grave mistake in giving up on him.
Given a Bills team that is giving up the 5th most rushing yards per game in football (134.5 Yards/Game) … and the 3rd worst overall yards/rush average (4.8 Yards/Carry) … that would appear to be a solid plan. After all, this is a team that gave up 247 Yards and 4 TD on the ground to the Patriots in Week 4 … and then a week later chased that bitter pill with another bitter tonic, allowing (an almost impossible to believe) 311 yards and 3 touchdowns on the ground to the 49ers (and you thought the Seahawks did poorly against them).
But as some local broadcasters have noted this week, the Bills defense has played the run much better over the past 4 weeks. Here is a brief breakdown showing how they've done …
Bills Rush Defense (Last 4 Games)
Week (Date)
Opp.
Result
Opp. Rush Yds/G Off.
Car
Yards
Yds/Att
Long
TD's
Game Notes
11 (11/15)
vs. Dolphins
19-14 (WIN)
107.2 (19th in NFL)
24
60
2.5
11
0
D. Thomas 33 Yds
12 (11/25)
at Colts
13-20 (LOSS)
105.6 (22nd in NFL)
29
87
3.0
14
0
V. Ballard 41 Yds
13 (12/2)
vs. Jaguars
34-18 (WIN)
82.2 (29th in NFL)
18
50
2.8
12
1
M. Owens 29 Yds
14 (12/9)
vs. Rams
12-15 (LOSS)
112.2 (16th in NFL)
27
78
2.9
12
1
S. Jackson 64 Yds/1TD
Now it's obvious in looking at those numbers that the Bills have allowed far less rushing yards in their last 4 games than their season long 134.5 Yards/Game Allowed average. However, it's also hard to overlook the level of competition that the Bills have faced. While Steven Jackson is a fairly quality NFL running back … Daniel Thomas, Vick Ballard, and Montell Owens aren't names that exactly strike fear in the hearts of many defenses.
Given that and what I believe will be a very motivated and angry Marshawn Lynch, I wouldn't want to be that guy having to tackle him this week. I envision a lot of Beast Mode left … Beast Mode right … and Beast Mode straight up the middle gaining a lot of real estate on a tired Bills defense by the 4th Quarter. Russell Wilson is going to rack up numbers in this game … but I contend a large part of that will be due to the success of play action pass and misdirection created as a result of the multiple footprints of Lynch all over this game.
Bold Prediction …
I know that I went down this road prior to the Dolphins game, but there is a large piece of me that is having a hard time buying that the Bills are even as good as some of their numbers might indicate …
2012 Bills Strength of Schedule (as of Week 14)


Week
Opponent
Result
ESPN Opponent Power Ranking
1
at New York Jets
28-48 (LOSS)
#22 Team
2
vs. Kansas City Chiefs
35-17 (WIN)
#31 Team
3
at Cleveland Browns
24-14 (WIN)
#24 Team
4
vs. New England Patriots
28-52 (LOSS)
#3 Team
5
at San Francisco 49ers
3-45 (LOSS)
#4 Team
6
at Arizona Cardinals
19-16 OT (WIN)
#27 Team
7
vs. Tennessee Titans
34-35 (LOSS)
#26 Team
8
BYE
NA
NA
9
at Houston Texans
9-21 (LOSS)
#1 Team
10
at New England Patriots
31-37 (LOSS)
#3 Team
11
vs. Miami Dolphins
19-14 (WIN)
#20 Team
12
at Indianapolis Colts
13-20 (LOSS)
#9 Team
13
vs. Jacksonville Jaguars
34-18 (WIN)
#32 Team
14
at St. Louis Rams
12-15 (LOSS)
#19 Team
Looking at the Bills schedule this year, I find myself saying, "Looks fairly weak to me." So realistically, many of the numbers that I've listed throughout this preview could be more inflated than a Macy's Day Balloon.
This week, Football Outsiders announced that the Seahawks defense had
the 2nd Best in wDVOA in football.
Well, with arguably 2 of their best corners out now, it's time to prove just how good (or not) they truly are. With a somewhat depleted and banged up defense, I personally see this group struggling in this game somewhat.
Given that this game is being played at the Rogers Centre in Toronto, I don't see the crowd being all that much of a factor, as this will be more of a neutral environment. Coupled with the fact that this game begins at 1pm our time, I don't believe that the Seahawks offense will be adversely affected by the normal East Coast game phenomenon that has plagued this team for the past several years. I see this as a hard fought contest that (due to injuries and Browner's suspension) will be much closer than a lot of people might think. In the end though, this is one game that I honestly don't see the Seahawks losing, as the Bills are honestly a fairly defeated and depleted club without a whole ton of firepower at this point of the season.
Let's call it:
Seahawks 20
Bills 16