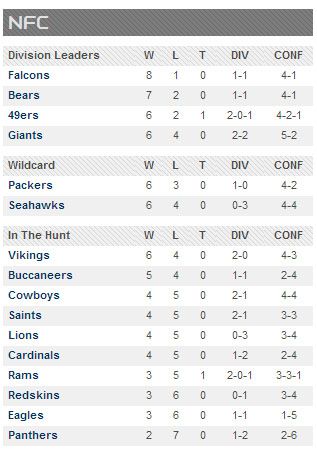 With tonight's MNF game having literally no bearing on the NFC Playoff Picture .. we can already paint the playoff picture in the conference going into next week.
The Seahawks are of course on the bye week, the last week any teams are off.. so after Week 11 every team will have played an equal amount of games.
Games to keep an eye on in Week 11:
Chicago (7-2) at San Francisco (6-2-1)
The biggest game really in terms of Seahawks interest will go down on MNF. Somehow grabbing a bye seems like a long shot unless the Seahawks somehow win out to finish the season.. so catching up to the Niners to win the division and get that ever important home playoff game is really the goal in mind. Jeff Fisher's clock management kind of screwed us yesterday, but the Bears can pull the Niners back down to a half game within the Seahawks with a victory. Needless to say, root for Jay Cutler and the Bears D next Monday Night.
Tampa Bay (5-4) at Carolina (2-7)
Don't look now but the Buccaneers are nipping at our heels all of a sudden. It wouldn't hurt our cause at all if Carolina hands the suddenly hot Bucs a loss to send Tampa to 5-5.
Green Bay (6-3) at Detroit (4-5)
Really, Seattle is probably better served here with a Green Bay win over a Detroit victory given the fact the Lions do have the tie-breaker over us. Having the Lions two games behind the Hawks in the win column bodes well for the long term..
New Orleans (4-5) at Oakland (3-6)
It's hard to imagine the Saints are actually very much alive in this thing with one of the worst defenses in NFL history. But that's what Drew Brees will do for a team. The Saints schedule does get a lot tougher after this game with contests against San Francisco, Atlanta, New York (N), and Dallas on the horizon.. but a Saints win does suddenly put them a game behind us for the last Wild Card spot. A Raiders win would be ok in my book this weekend.