Some of you remember her. Some might not. Good to see she's still in the spotlight.
Here she is with NET staff at one of the NET Bash's.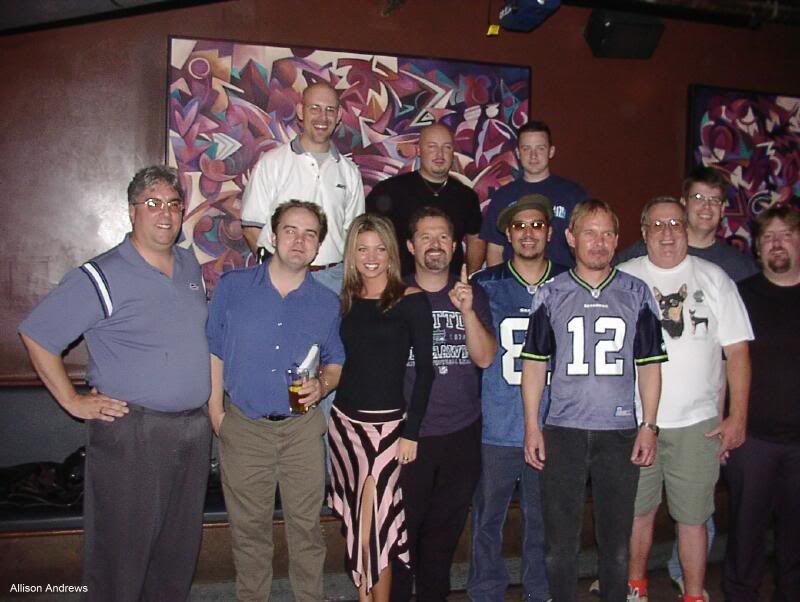 Did you know that "Price is Right" model Amber Lancaster, who is as hot as they come (see photos), used to be a cheerleader for the Seattle Seahawks?
Not only was Amber Lancaster a Seattle Seahawks cheerleader, she was a Sea Gal (the name of the Seahawks cheerleaders) for five years and is still probably the most popular Seahawks cheerleader, even though she left the squad in 2003. The following is a bio of Amber Lancaster accompanied by a slideshow of 20 hot photos of Amber Lancaster.
Amber Lancaster was born on September 19, 1980, in Tacoma, Washington. She went to Franklin Pierce High School in Tacoma, and in 1998, at age 18, Amber Lancaster was named Miss Washington Teen USA. In 1999, Amber Lancaster tried out for and made the Seattle Seahawks cheerleaders squad, called the Sea Gals.
Amber Lancaster was a Seattle Seahawks Sea Gal cheerleader until 2003, when she decided to move to Hollywood to pursue a modeling and acting career. Amber has had great success, as she has been featured in a Miller Lite beer commercial, was a regular on the TV show "The Hard Times of RJ Berger", and been on other TV shows like "CSI: Miami", "Entourage", and "Days of Our Lives".
In 2008, Amber Lancaster landed the gig she is best known for today, as a model on the TV game show "The Price is Right". On "The Price is Right", Amber will sometimes talk about sports, especially the Seattle Seahawks, with host Drew Carey. Though he is from Cleveland, Drew Carey is into the Seattle sports scene as he is a co-owner of the Seattle Sounders FC professional soccer club.
As a very beautiful woman (see the photos), Amber Lancaster has been featured in magazines like Maxim, US Weekly, People Stylewatch, Life & Style, and Star. Amber Lancaster has also been on the Maxim Hot 100 list.
Hope you enjoy the 20 hot photos of Amber Lancaster in the slideshow. Watch for Amber on "The Price is Right".
http://www.examiner.com/slideshow/hot-p ... er#slide=1