What started with a 13 1/2 hour bus ride from Chinatown, NYC to Charlotte, North Carolina, ended with a 13 1/2 hour bus ride back home. With a W, and that's all that matters. Thank you, Charlotte. Truly one of the hidden gems of the South. They played a good host to the 12th Man on opening weekend, and when I say a good host I mean a REAL good host. Southern hospitality really is no joke. You know what else isn't a joke? The 12th Man! Just an absolutely unbelievable showing from literally everyone who played a part in it. I have no doubt that the players could pick up on that magical energy that was in the air, and neither do Doug Baldwin or Richard Sherman. Hey, there's even a brief cameo from yours truly in this clip from KIRO7 that'll show you just how real the 12th Man was this past weekend in Charlotte.
http://bcove.me/udc8kia4
It was seriously very tough to get back in to the swing of things back home after such an amazing weekend on the road. And that's even without the W! Good friends abound, both new and old, and just some really great people all around. I suspect that my girlfriend might even be catching the Seahawks itch, and I've gotta admit, she looks great in Seahawks blue! And how could you not, really, after such an outstanding weekend with so many outstanding people? People like Damon and Deb, who helped organize Saturday night's event at Tilt bar in uptown Charlotte. 12's going out of their way to make sure that other 12's are taken care of and treated well on the road. That's a beautiful thing right there.
The event at Tilt was great. On the shockingly quick drive over from Indian Land, South Carolina where I was staying, to the bar in uptown Charlotte, I wondered how many 12's I think would show up. I finally settled on 50 being a reasonable number. The only good part about my prediction is that if we were playing by Price is Right rules I'd still have a chance because I was UNDER. Way under. About 150 people under. Everywhere you looked there was a new 12 walking through the mob of people standing outside to try and get inside to take advantage of the ridiculous beer specials that awaited them inside. I'm pretty sure I even saw one of the Seagals in attendance. Although I couldn't tell because the swarm of dudes trying desperately to talk to her had swallowed her up.
After Tilt, some went to bed but I stayed awake to watch the waning moments of the Cougs upset victory over USC. Little did I know that it would be some amazing foreshadowing by life on what was to come, but what an ugly win that was. I asked a fellow Coug if it was the most beautiful, ugly win you've ever seen. We agreed that it was up there. Regardless, it felt good to see the Cougs finally not be the ones to Coug it. Jeez, USC looks awful under Lane Kiffin. I wonder how much time he'll get before he walks the plank. Maybe Al Davis was right for once in the last decade of his life?
So with a surprise W already in tact for the weekend, I "woke up" (I say that because I did a whole lot of tossing and turning but very little sleeping, as I mostly always do on a night before a Hawks game) with visions of the victory we all came to Charlotte to watch in my head. I tried to imagine the big plays of the day and how insane Russell Wilson was about to go on the Panthers defense. Note to self, a whole lot of pacing around, nervous and serious facial expressions, nailbiting in my case, and mimicking Russell Wilson touchdown throws will get the people around you thinking you're a lunatic if they aren't diehard football fans. My girlfriend's used to it by now, her friends on the other hand probably thought I might be truly insane behind closed doors. Very well then, on to the game!
Did I mention how hot it was on Sunday? No? Okay then... it was brutal with a capital B. From the moment you stepped outside you were convinced that your skin was melting. I felt like I was in the episode of the Twilight Zone ('The Midnight Sun' for my fellow Twilight Zone lovers out there) where life comes to a screeching halt because of a record heat-wave. The only difference of course being that it wasn't actually cold outside and my mind was just shot, no, it was really this freakin' hot out! Which all made me wonder... if I'm dyin' out here and I'm 5'8", 170... what the hell is going through Brandon Mebane's mind right now?! Or James Carpenter?! He must absolutely hate this!
Sadly, Bojangles was closed so there was no Bojangles breakfast like I had dreamed when thinking about the season opener being in Carolina. However, there was a MONSTER tailgate! There were many of the same faces from the night before at Tilt, so good conversation and good food were all over the place. At the tailgate I had the pleasure of meeting Mike Flood, the Seahawks VP of Community Relations. A truly great man who genuinely enjoys, appreciates, and cares about the 12th Man. He had some great stories about watching Phil Niekro and Tom Seaver go at it in a pitcher's duel at the old Shea Stadium. The man truly is a Seahawks ambassador and we're very lucky to have him.
I also had the pleasure of meeting Ian from the UK. A massive (damn that's a tall dude!) Hawks fan who drives a truck for a living in England. His dedication and passion for the team is immeasurable and he's someone who inspires me as a fan to always be proud of the 'Hawks. The same goes for other 12's I met like PredatorHawk, Dave the dude who went to every game last season, Mr. Mohawk, and many, many more. It's great knowing that there are people out there who love something just as much as you do. That was on full display on Saturday night and Sunday prior to the game. Finally, however, the time had come. It was time for some football and for the 2013 season to kickoff.
What better way than with an imperial march, if you will, through the parking lot? I know Panthers fans must have been wondering what the hell was going on, although they were mostly too polite to say or do anything about it. I think things would be a lot different had we been in San Francisco, but I digress. Once we were inside and looking for our seats, I saw a man wearing an "It ain't easy being Sweezy" t-shirt. The shirts are pretty sweet actually.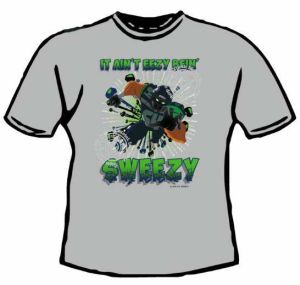 Better than the shirt was that it turns out the guy wearing it was actually J.R.'s Head Coach back in high school, Barclay Marsh. Marsh was with his son, so I decided to keep it brief, but I congratulated him and thanked him for helping mold a Seattle Seahawk. We finally made our way to our seats and we were pretty high up. How high? About 3 rows from the absolute back of the stadium. Still, we were around midfield and the view was great. I've got to admit, me and my girlfriend both agreed that we liked Bank of America Stadium better than the New Meadowlands. Yeah, that's a random and unnecessary Giants dig.
Before the game I had imagined that the game would be a defensive slug-fest, much like last year's meeting between the two teams. 16-13 Seahawks was my official prediction and I was confident that the Seahawks would struggle early yet somehow find a way to pull it out. I figured that this was the type of game the team needed to "learn how to finish" and right the wrongs of blown leads last season. Even still, I was taken aback at how poorly the Hawks started, although you could realize even from the cheap seats that the Panthers D was playing inspired ball. Their front seven completely neutralized the Seahawks ground game and made sure that it would be Russell Wilson who would eventually have to beat them.
And that he would, as if there were any doubt. Before he did, however, there were struggles. The Offensive Line had it's hands full with the Panthers front seven all day and I came away from this game very impressed with Luke Kuechly. Star Lotulelei's impact on this defense is obvious. About the only constant for the Seahawks offense early on was the poise of Russell Wilson and his ability to not make any fatal mistakes, and the reliability of Doug Baldwin. Baldwin had an outstanding game, was all over the field, and came up big whenever the Seahawks needed him. He also completed one of the best plays of Week 1 around the league, no doubt, with this insane circus catch.
http://www.nfl.com/videos/nfl-game-highlights/0ap2000000240152/Wilson-Baldwin-connect-for-tough-first-down
I'll take the credit for Baldwin's performance. He signed my jersey (a Wilson jersey at that, he was none to pleased about that haha) at Training Camp in August so he now has me to thank for his opening day performance. Anytime Doug. Doug was one of the only bright spots for the Hawks, however, as it proved to be a tough day at the office for our boys in Blue.
However, this year's team IS different. A tough day at the office doesn't mean a probable loss anymore. Even though the Hawks weren't firing on all cylinders they made just enough plays on defense, limited the big play death blow, and had that moment of inspiration from Russell Wilson and Jermaine Kearse that led them to victory. It's funny, because after the missed bomb to Stephen Williams I thought to myself, "Russell Wilson doesn't make the same mistake twice, he'll connect next time." Little did I know that next time was literally going to be the next play. And this time he did connect, with Jermaine Kearse on a beautifully thrown ball that was equally as impressive of a catch. #3 never ceases to amaze me.
Want more proof that this squad is different? The Panthers actually responded with an impressive drive and appeared poised to wrestle the lead back from Seattle. That was until the Seahawks D forced Deangelo Williams to fumble at the 8 yard line. I've got to be honest, it took a lot out of me trying to NOT have flashbacks from last season. Thoughts of Kevin Kolb pulling a Kirk Gibson and coming off the bench to shred the Seahawks D in the season opener were colliding with thoughts of Matthew Stafford connecting with Titus Young for the game winner in Detroit. However, newer, better memories were forged on that fumble. My heart would personally like to thank the Seattle Seahawks for not breaking it one more time.
A patented Tom Cable/Pete Carroll, grind em out type of drive to milk it and the Hawks were victorious, 12-7. Not the prettiest game I've ever attended, but definitely one of the most beautiful Hawks road victories I've witnessed. This is now the 2nd "10am" game I've seen the Hawks win in person in about 6 tries, the other being the upset over the Super Bowl Champion Giants in 2011. My girlfriend was in attendance for both victories. Maybe she's the Seahawks good luck charm during early East Coast road games? Hopefully not because she won't be there in Houston (only a 2 hour time difference technically) or Indy!
All in all, a great day. Many a monkey was harmed in the making of this Seahawks season opening win. The road monkey, 10am monkey, blistering heat monkey, holding on to a lead late monkey, and the overcoming injuries monkey were all savagely slain in this one. Sorry PETA, we just had to. The win capped off an excellent weekend for yours truly and made the 13 1/2 hour bus ride back to Chinatown somewhat bearable, despite the near donnybrook over a seat dispute at 12am. The bus ride and the Cougs win were perfect foreshadowing now that I look back at things. It was tough, it wasn't pretty, and it was uncomfortable as all at times but at the end of the day we got it done and left victorious.
No Chinatown bus next week, oh no. Instead it's work straight through Saturday night and then a 6am flight from Laguardia airport with a 12:08 arrival at Sea-Tac. The game needs no further buildup so I'll just keep it simple...
GO Hawks!!!