Silence of the Lambs …
4 Keys to Victory for the Seahawks vs. the Rams …
Hannibal Lecter

:

"And what did you see, Clarice? What did you see?"

Clarice Starling:

"Lambs. The lambs were screaming."
Last Sunday Night, the Seahawks screamed in to the playoffs, demolishing the best team in the NFL, and giving notice that they have officially arrived. It was a win that opened the eyes of even the staunchest of critics, as the rest of the country has finally caught on to the fact that the Seattle Seahawks are a team to be reckoned with. Over their last 3 games, the Seahawks have scored 160 points … and held their opponents to a combined 30 points. Not since the 1940s has a team displayed THIS level of dominance … and they have done so now over a sustained period of time. Over their last 8 games [since Week 8], the Seahawks have averaged 34.5 Points Per Game … and limited their opponents to an average of just 15.75 Points. They have become the team that no team wants to face in the playoffs. Though the San Francisco win clinched a playoff spot, head coach Pete Carroll said that simply making the playoffs has never been his goal – he wants to win the division. Standing in the way of a possible NFC West division title is this week's final regular season opponent -- the St. Louis Rams. The Seahawks suffered one of their most frustrating losses of the season back in Week 4, going down to the Rams 19-13 that day. Now for the 2nd week in a row, the Hawks have a chance at redemption. Will it the Lambs be screaming at the end of the day on Sunday … or will the Rams give the Hawks an unexpected head butt? Here are 4 Keys to Victory for the Seattle Seahawks this Sunday (yep only 4 this week, as it's Christmas-time, I don't feel like looking for a 5th Key, and I'm really a lot more focused on the playoffs at this point) …
Key #1: Contain the Shepherd …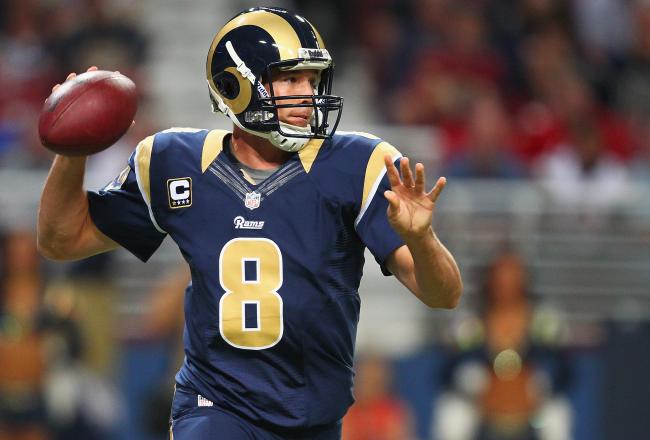 Before we get to our examination of the Rams Passing Offense, let's take a look at some of their numbers and how they compare with the Seahawks Pass Defense …
Rams Passing Offense vs. Seahawks Pass Defense …
Rams Off. Category
NFL Rank
Seahawks Def. Category
NFL Rank
19.1 Pts Scored/Game
26th Most
15.5 Pts Allowed/Game
#1 in the NFL
219.9 Yds/game
19th
199.9 Pass Yds/Game Allwd
5th Best
41 Passes of 20 Yards+
tied for 21st
38 Passes of 20 Yards+ Allowed
tied for 5th Fewest
32.8% 3rd Down Conv Rate
29th
Allw 39.6% of 3rd Down Conv
20th
21 Passing TD's
tied for 17th
14 Passing TD's Allwd
tied for 2nd Fewest
Score TD's 46.67% in Red Zone (ON ROAD)
21st
TD's Allwd 31.25% in Red Zone (AT HOME)
1st in NFL
35 Sacks Allowed
13th Most
36 Sacks
tied for 12th
83.2 Passer Rating for Sam Bradford
18th Best
71.6 QB Passer Rating Against
3rd Best
In some ways, the Rams pose an even greater challenge for the Seahawks than the 49ers did. Now why in the world would I say that? To answer that, let's take a look at some of the numbers that the Rams Receivers have put up this year …
(2012) Rams Top Receiving Targets


Receiver
Size
Catches
Yards
Yards/Catch
TD's
#Catches of 20 Yds+
% of Passing Off
WR Danny Amendola
5'11" 188 Lbs
59
639
10.8
3
5
19.22%
WR Brandon Gibson
6'0" 205 Lbs
48
646
13.5
5
8
15.64%
WR Chris Givens
6'0" 198 Lbs
40
644
16.1
3
9
13.03%
FB/TE Lance Kendricks
6'3" 247 Lbs
39
486
12.5
4
6
12.70%
WR Austin Pettis
6'3" 207 Lbs
27
237
8.8
3
2
8.79%
RB Daryl Richardson
5'10" 196 Lbs
22
149
6.8
0
2
7.17%
WR Steve Smith
5'11" 195 Lbs
14
131
9.4
0
1
4.56%
WR Brian Quick
6'3" 220 Lbs
11
156
14.2
2
3
3.58%
In the case of the 49ers, there was little doubt WHO the #1 receiver was, as Michael Crabtree had caught 28.85% of all Colin Kaepernick's passes coming in to that game. In fact, 60.48% of all San Francisco's offense has come from just 3 receivers -- Crabtree, Mario Manningham, and Vernon Davis. That's why (outside of a couple of catches by Randy Moss) once Manningham and Davis went out of the game, the 49ers passing attack was essentially done for the day. Contain Crabtree … and you contained the 49ers passing offense. As you can see from the numbers above, that's not the case with the Rams. Sam Bradford has been very good at spreading the wealth around this year.
It's noteworthy to add that the Rams and the Seahawks have had exactly the same number of passing plays that have gone for 20 yards or more (41) this year. And as you can also see from the numbers above, there are several Ram receivers who can stretch the field. The Rams have a LOT of good, talented, young receivers on this roster who can make plays and will be starring for them in the future (Brandon Gibson, Chris Givens, Brian Quick, and Austin Pettis to name a few).
On Thursday, the Seahawks once again did the impossible, as star CB Richard Sherman WON his appeal against the NFL – so won't be suspended for PED's. Replacing Richard Sherman (the league's leader with 23 Passes Defensed and 2nd in the NFL with 7 interceptions) would have been no small task. How a player like Sherman – arguably the best corner in the game – a player whose coverage is so good he in essence takes away part of the field and changes the way offenses play doesn't make the Pro Bowl is beyond me. Sherman's improbable victory means that the Seahawks should march in to the playoffs at full strength, as Brandon Browner will once again be available for duty after this game. Because Richard Sherman suspension appeared immanent, it seemed that Pete Carroll didn't active Walter Thurmond last week, as the Hawks undoubtedly were trying to make sure that he was going to be 100% healthy for the long haul. Despite the fact that Thurmond had been participating on a limited basis in practice, Carroll said on that Friday that he wouldn't play in this Rams game on Sunday. Hopefully Thurmond will be ready to assume the Nickel CB role throughout the playoffs … but even if he isn't, the last couple of games has proven that the Seahawks do have options. Even though Marcus Trufant appears to be healthy again, I'd look for Jeremy Lane to get the nod for the starting Nickel corner once the playoffs get going, as Lane has shown that he has the kind of quickness, physicality, and coverage ability necessary to handle inside slot receivers. With Byron Maxwell being a very aggressive player that appears to me to have many of the same physical attributes as Richard Sherman (great size – 6'1" 207 pounds, speed [4.43 in the 40], and quickness), I'd personally start him opposite Sherman in this particular game with Lane being the Nickel corner, as I believe those roles better suit each player's individual talents. That's just me personally though (not Pete), so in reality, look for Lane to get the start at RCB – just like he did in the 49ers game.
This week, the Seahawks made a roster move that I don't believe is fully related to injuries or Richard Sherman's situation at all. The Seahawks activated this year's 6th round pick out of Kentucky, Safety Winston Guy (6'1" 218 pounds) from the practice squad early this week, saying goodbye again to WR Deon Butler in the process. Like the rest of Seattle's picks seemingly, Guy is a player whom many out there called a "sleeper". He has great instincts, excellent range, is a ferocious hitter, good tackler, and like Kam Chancellor is especially good against the run. All of this has gotten me to thinking – could we see the return of the Amoeba defense? I believe it's highly possible.
During Carroll's first season in 2010, the Hawks surprised everyone by rolling out the "Bandit" – a defensive package that featured 7 defensive backs. Last season, the Hawks again rolled out a 7 defensive back package that they called "the Amoeba".
Field Gulls has a fantastic write-up
on the Amoeba over on their site. The Seahawks rolled out the Amoeba last season against the Falcons – a team that (led by Matt Ryan) is fairly pass happy. Why am I bringing all this up right now? Because first of all, Secondly, because the Seahawks will be facing a Rams team this Sunday who likes to throw the ball. This season, the Rams have passed the ball 515 times … and run the ball 319 times. So, if you're doing the math along with me – a full 62% of their offense IS via the pass. And Sam Bradford has had some solid performances against some quality teams this season …
| Date/Opp | Comp | Att | Comp% | Yards | TD's | INT's | QB Rating |
| --- | --- | --- | --- | --- | --- | --- | --- |
| 9/16 vs. Redskins | 26 | 35 | 74.3% | 310 | 3 | 1 | 117.6 |
| 10/14 at Dolphins | 26 | 39 | 66.7% | 315 | 0 | 0 | 91.3 |
| 10/21 vs. Packers | 21 | 34 | 61.8% | 255 | 1 | 1 | 82.4 |
| 11/11 at 49ers | 26 | 39 | 66.7% | 275 | 2 | 0 | 104.1 |
| 12/2 vs. 49ers | 26 | 39 | 66.7% | 221 | 0 | 0 | 81.3 |
| 12/16 vs. Vikings | 35 | 55 | 63.6% | 377 | 3 | 1 | 94.3 |
If you have a team that you know is going to pass the ball … and you've been gashed at times this year by big play receptions down the field, one way defensively to compensate might be to go with more defensive backs. Defensively, Seattle has had times when they've been vulnerable to big play PASS … and been vulnerable of late to the run. With Kam Chancellor and Winston Guy being a lot more like undersized linebackers who are both good against the run, a 6 or even 7 defensive back package containing those guys just might be a solution that could address both issues.
Seattle brought in DE Ray Edwards this week for a tryout, so the Seahawks are clearly looking for ways to bolster their defense against teams that are clearly going to be more pass happy in the playoffs. Now Gus Bradley, Pete Carroll, and the coaching staff may not go with the Amoeba per se … but I certainly could see them going with a 6 or 7 defensive back package (say for 8-10 times a game) from here on out. If the Seahawks end up facing the Redskins in the 1st Round of the playoffs (as I expect them to), then such a package could potentially help eliminate some of those big plays downfield ... while at the same time provide greater quickness to the ball against running backs and mobile quarterbacks like Robert Griffin III. The Rams, who clearly favor passing the ball, just might provide the perfect opportunity for the Seahawks to hone such a package for the playoff run.
Key #2: Shear the Sheep …
Age-wise, the Rams have one of the youngest rosters in the NFL. With youth sometimes comes inexperience, which definitely showed up early this year. BUT, as these young Rams have been gaining experience … they have been getting better and better …
2012 Rams …


Weeks
Win-Loss Record
Points Scored
Points Allowed


Weeks 1-8
3-5
137 (17.125 Pts/Game)
186 (23.25 Pts/Game)


Week 9 (BYE)
NA
NA
NA


Weeks 10-16
4-2-1
149 (21.29 Pts/Game)
142 (20.29 Pts/Game)
The Seahawks are a much better team than the one that the Rams faced back in Week 4 … but obviously, the Rams are a better team as well. Why are they doing so much better? Well, part of the reason is because the Rams Offensive Line has been making far less mistakes.
In September and October, the Rams Offensive Line allowed 23 Sacks. They have allowed only 12 ever since. Coincidentally, Bradford threw 8 interceptions in September and October … he has thrown 5 since that time. He threw 9 touchdowns in September and October … he has thrown 12 since that time.
Unlike Russell Wilson who makes plays with his legs, Bradford is virtually no threat to run. He is very much more of a traditional pocket passer with tree roots for feet, as Bradford has a grand total of 121 Rushing Yards on the season (just 3.4 yards/carry). .
So needless to say, applying pressure on that Offensive Line, giving Bradford less time back there in the pocket, and collapsing those running lanes will be absolutely key in this game.
Football Outsiders ranks St. Louis's Offensive Line
#17 in Pass Protection … and 16th Overall in Run Blocking. In other words, they are very much a middle of the road/average group. With that in mind, here are some key match-ups …
LT Rodger Saffold vs.RDE Chris Clemons.
Since being chosen in the 1st Round by the Rams in 2012, Saffold (6'5" 315 pounds) has had a bit of a rough go. Last season, Saffold gave up 9 Sacks – not exactly the kind of production you look for in a Left Tackle. This season,
Pro Football Weekly
credits him with having allowed 2.5 Sacks this season and having had 4 False Start and 2 Holding Penalties. In a hostile environment like Century Link Field, Chris Clemons will undoubtedly be unleashed for this battle like Blackbeard with his hair on fire.
RT Barry Richardson vs. LDE's Bruce Irvin and Red Bryant
Barry Richardson (6'6" 319 pounds), the 5th Year player out of Clemson, looks to be another plump turkey ripe for the plucking. After allowing 5 Sacks each of the past 2 seasons,
Pro Football Weekly credits him
with having given up 8 already this season. He had 5 False Start Penalties in 2010 … and 6 of them in 2011. If I were a Rams coach, I would humbly suggest it might be time to make a change there. As far as the Seahawks are concerned, I'd be ringing the dinner bell – especially for Bruce Irvin. Richardson has struggled a lot this year and I see a lot of potential for the Hawks to make some hay on the right side of the line in this game.
C Scott Wells vs. DT Brandon Mebane …
Contrary to the other 2 lineman I've singled out, Scott Wells (6'2" 300 pounds) is having himself a very solid (if not Pro Bowl level) season. Well has only given up 1 Sack on the season and unlike Saffold and Richardson, he hasn't gotten flagged very often throughout his career. An Offensive Line's strength begins and ends with the man in the middle … and Brandon Mebane (6'1" 311 pounds) has been one who has been one of the very best at clogging up the drain – being able to stop the run and open up gaps for Seattle's pass rushers. Brandon Mebane had an outstanding performance against the Rams last time, as after that game he was drawing comparisons to Hall of Famer Cortez Kennedy. We'll see if he can duplicate that kind of performance again this Sunday.
As far as the Rams running attack is concerned, the numbers very much tell the story there …
2012 Rams Rushing Statistics …
Name
Att
Yards
Avg. Yards/Rush Att.
Rushes of 20+ Yards
TD's
Fumbles
Steven Jackson
246
990
4.0
5
4
0
Daryl Richardson
96
475
4.9
4
0
2
Sam Bradford
36
121
3.4
1
1
2
Those are the top 3 rushers for this football team. As you can see, unlike the Seahawks the Rams have not made running the football their primary emphasis. Their 5 rushing touchdowns this year is tied for the 3rd lowest in football. Steven Jackson had 55 yards on 18 carries (just 3.1 Yards/Carry) in the Seahawks-Rams first meeting this year. In fact, since the start of the Pete Carroll Era in 2010, Steven Jackson has never been a back that has burned the Seahawks. In their 5 meetings since Carroll took over as head coach, Jackson has yet to crack the century mark and has averaged a mere 55 yards a game (3.2 Yards/Carry). Even with the struggles the Seahawks have had off and on this year, at 29 years of age, I don't see him having kind of true impact on this football game. Daryl Richardson (their 7th Round choice out of Abilene Christian this year) has been far more of an explosive back, but here again, I just can't see him going off on Sunday. Therefore the key to shutting down the Rams offense is keying in on slowing down Bradford and that young receiving corps.
Let's turn our attention now to the other side of the ball …
Key#3: Don't Get Head Butted …
What about the Rams Defense, you say? Let's take a look at some of the numbers of how the Rams Pass Defense matches against the Seahawks Passing Attack …
Seahawks Passing Offense vs. Rams Pass Defense …
Seahawks Off. Category
NFL Rank
Rams Def. Category
NFL Rank
26.1 Points Scored/Game
8th Most
21.9 Points Allowed/Game
14th
188.1 Pass Yds/Game
27th
226.2 Pass Yds/Game Allwd
15th Best
41 Passes of 20 Yards+
tied for 21st
32 Passes of 20 Yards+ Allowed
2nd Fewest
40.1% 3rd Down Conv Rate
11th
Allw 37.3% of 3rd Down Conv
14th
27 Sacks Allowed
8th Fewest
46 Sacks
3rd Most
26 Passing TD's
tied for 8th Most
15 Passing TD's Allwd
4th Fewest
7.7 Yards/ Pass Attempt
6th Highest
7.0 Yards/Pass Attempt Allwd
15th
98.0 Passer Rating for Russell Wilson
7th Best
81.9 QB Passer Rating Against
12th Best
As you can see by some of the statistics above, in many ways the Rams Defense is a force to be reckoned with. It's especially a force when you stop to consider all the young defensive players that this team is loaded with. Michael Brockers, Janoris Jenkins, and Trumaine Johnson were all high draft choices of the Rams this year – all of which have flashed potential and could be pains in the side of Seahawks fans for years to come. Let's take a look at more of the key match-ups heading in to this contest …
RDE Robert Quinn/Eugene Sims and RDT Michael Brockers vs. LT Russell Okung and LG Paul McQuistan…
Left Tackle Russell Okung (6'5" 310 pounds) was finally recognized for his efforts this year by being chosen for the Pro Bowl. Okung has allowed only 1 Sack all season long and will be the starting left tackle for the NFC in Hawaii this February if he wants it. LG Paul McQuistan (6'6" 315 pounds), has been extremely solid in pass protection himself this year. According to
Pro Football Weekly
, McQuistan has allowed only .5 Sacks and had only 2 holding penalties on the season. Like last weekend though, the left side of Seattle's Offensive Line will have their hands full on Sunday.
RDE Robert Quinn (6'4" 264 Pounds -- 2nd year DE out of North Carolina) should be ranked right up there with Chris Clemons among the Pro Bowl snubs this year. Though he has struggled some against the run, Quinn (the 14th overall pick last season) has all the makings of becoming one of the most feared sack artists in the game. With 9.5 Sacks on the season, Quinn is a guy that quarterbacks will get to know quite well (if they don't know him well already). DE Eugene Sims (6'6" 265 pounds) is another end who will rotate in there and (as his 3.0 Sacks on the season suggests) has been fairly productive when given the opportunity. Standing next to Quinn, RDT Michael Brockers (this year's #14 overall pick out of LSU) is another big body that bears watching. At 6'5" 322 pounds, Brockers is a boulder in the stream that can be very hard to move. With 4.0 Sacks and 5 Tackles for Loss on the year, this is a guy who will be a pain in the side of offensive coordinators for years to come.
LDE Chris Long/William Hayes and LDT Kendall Langford vs. RT Breno Giacomini and RG J.R. Sweezy…
While the Left Side of Seattle's may make Seahawk fans feel warm and fuzzy … it's the Right Side that bears watching this week. RT Breno Giacomini (6'7" 318 pounds) comes in to this game having only
allowed 2.0 Sacks on the season
... but has been guilty of 4 holding penalties this year (often because he's been beaten by his defender and doesn't want to get Russell Wilson killed). Breno did not practice on Wednesday and was limited on Thursday with an elbow issue – definitely something to keep an eye on. Standing next to him, 7th Round Draft Choice J.R. Sweezy (6'5" 298 pounds) is talented for sure … but as raw as cookie dough. As a guy who played Defensive Tackle at North Carolina State to be converted to guard in training camp … and actually start Week 1, speaks to Sweezy's amazing talent for sure. Despite having good raw tools though, Sweezy was obviously replaced after the first game and didn't see the field again until last week when he was forced in to duty due to John Moffitt's knee injury.
Opposing Sweezy this week will be LDT Kendall Langford (6'6" 295 pounds), who is a very strong, hard nosed, instinctive player who is a very good defensive tackle. Langford has 2.0 Sacks and 3 Tackles for Loss on the season and like Sweezy, is an excellent athlete. From 2008 to 2010,
Pro Football Focus graded Langford out
as the 2nd best tackling lineman in the game – racking up 121 tackles and missing only 1. This will be a good test for the rookie. As far as Giacomini is concerned, he'll be banging on LDE Chris Long (6'3" 270 pounds) – the 2nd overall pick in the 2008 Draft out of Virginia (and son of former Seahawk nemesis Howie Long) for most of the day. Long has had a very good year rushing the quarterback, as he comes in to this game have garnered 8.5 Sacks on the season. William Hayes (6'3" 272 pounds), who will also rotate in at LDE --- and the Rams don't lose anything there when he does, as he comes in to this game with 6.0 Sacks and 7 Tackles for Loss. Clearly, Giacomini is going to have his hands full, so hopefully that elbow isn't too much of a concern moving forward.
Seahawks Receiving Corps vs. Rams Secondary …
Last Sunday the Seahawks receivers needed to show up on Sunday … and they most certainly did. Doug Baldwin and Golden Tate both had great games against the 49ers last week and were a big reason for that victory. Even Robert Turbin attoned for his sins in the 1st San Francisco game with 2 receptions in that game. For me, the only true concern coming out of that game was the fact that Sidney Rice had just 1 catch on the day. That's a bit concerning, as Sidney Rice had just 1 ball thrown his way in the entire first half of the first 49ers game (10/18) and finished with only 2 catches in that particular game. So was Rice's lack of production on Sunday the result of a what is obviously a very good 49ers secondary ... or more the result of injury? Rice has been hampered of late somewhat by a knee issue, but the good news is that he was a full participant in practice on Thursday. Golden Tate didn't end up participating on Thursday though because of illness, so that situation obviously bears watching.
This Sunday, Russell Wilson and the Seahawks face a very young and fiesty secondary who has quietly made a bit of white noise this season.
RCB Janoris Jenkins (5'10" 193 pounds)
(the Rams #39 pick this year out of North Alabama) has had a very productive rookie season (72 Tackles … 14 Passes Defensed [among the league leaders]… and 4 INT on the season). With 3 interceptions returned for touchdowns this year (albeit against Arizona and Tampa Bay), Jenkins is a young guy who already is one of the league's best corners and will only get better. He'll probably be drawing Sidney Rice for much of the day, so we'll see how Rice does there. On the opposite side,
LCB Cortland Finnegan (5'10" 188 pounds)
has had an equally productive season (81 Tackles … 8 Passes Defensed … 3 INT). Finnegan took an interception back to the house against the Lions in Week 1 ... so he too is one to definitely keep an eye on.
CB Trumain Johnson (6'2" 204 pounds)
, the team's 3rd Round pick out of Montana this year, has had a nice rookie season as well and provided the Rams solid play in the Nickel spot (7 Passes Defensed and 2 INT).
CB Bradley Fletcher (6'0" 200 pounds)
(8 Passes Defensed … 1 INT … 1 Sack) and hard hitting, aggressive veteran
FS Quintin Mikell (5'10" 204 pounds)
(92 Tackles … 3 Sacks … 4 Forced Fumbles) are two other defenders Seahawk fans should watch for on Sunday.
All in all ... this is a young and hungry group that Jeff Fisher has playing very well right now. In terms of their overall Pass Rush,
Football Outsiders
has St. Louis's Defensive Front 7 as the 5th Best unit in the NFL. And the Rams secondary is a group that is quietly one of the better secondaries in the league. This Rams Defense is one of the best in the league and they come in to this game at Century Link Field with the numbers to back it up …
They have sacked opposing QB's 46 times on the season (3rd Most in the league)
They have 17 interceptions on the season (tied for 9th on the season with the Seahawks who have 17 as well) ...
They give up an average of only 10.6 Yards/Reception (4th Best in the NFL) …
They have allowed only 32 Passing Plays of 20 Yards or more (2nd Fewest in the NFL) …
They have surrendered only 15 Passing TD's this year (4th Fewest in the NFL) …
The Seahawks are just 1 win and a San Francisco loss away from the NFC West title. Russell Wilson comes in to this game needing just 1 touchdown pass to tie (and 2 to break) Peyton Manning's record for most TD Passes by a rookie QB in NFL History. Though they're playing at home, Russell Wilson and the Seahawks will have their work cut out for them to accomplish both goals. In order to help reach those, there is one strategy that I would suggest …
Key #4: Give It To Mr. Ram Tough …
This season, the Seahawks have run the ball more than any team in football (506 rushing attempts). As you well know, Seattle's offensive success flows from the strength of its running game, as Marshawn Lynch not only sets the tone for this team with his dominance running the football … but also opens up so many other offensive possibilities because opposing defenses have to key in on stopping him. So naturally, Seattle is going to look to establish the run in this game as well. How does the Seahawks running attack much up against the Rams Rush defense? Let's take a look at some of the numbers …
Seahawks Rushing Offense vs. Rams Rush Defense …
Seahawks Off. Category
NFL Rank
Rams Def. Category
NFL Rank
26.1 Points Scored/Game
8th Most
21.9 Points Allowed/Game
14th
161.7 Rushing Yards/Game Avg.
2nd
115.1 Rushing Yds/Game Allowed Avg.
16th
4.8 Rushing Yards/Att. Avg.
6th
4.2 Rushing Yds/Att. Allowed
13th
13 Runs of 20+ Yards
tied for 8th Best
11 Runs of 20+ Yards Allowed Avg.
20th
15 Rushing TD's
tied for 8th Most
17 Rushing TD's Allowed
3rd MOST
294 First Downs
18th
310 First Downs Allowed
11th MOST
6 Rushing Fumbles
tied for 13th
13 Forced Fumbles
Among Bottom 10 Teams
Stuffed Behind LOS 15% of Time
Best in NFL
61 Tackles for Loss
4th MOST
Those statistics are very revealing about WHO the Rams are as a Run Defense. The Rams are 4th Best in the NFL at stopping opposing runners behind the line of scrimmage … and yet have given up the 3rd most rushing touchdowns in football. How do those 2 things go together? Well, the Rams Front 7 is among the best in the league at penetrating in to opposing backfields and disrupting the running game. Players like
WLB Jo-Lonn Dunbar (6'0" 226 pounds)
(103 Tackles … 13 Tackles for Loss) …
MLB James Laurinaitis (6'2" 250 pounds)
(137 Tackles ... 4 Tackles for Loss) …
LDE William Hayes (6'3" 272 pounds)
(7 Tackles for Loss) … and
RDT Michael Brockers (6'5" 322 pounds)
(5 Tackles for Loss) … make this a difficult unit to run on. Beyond those guys though, the rest of this unit has had a hard time bringing down running backs when they bust through to the second level.
According to Football Outsiders
, the Rams Front 7 is the 3rd Best in the league against the Run. They stuff opposing runners either at or behind the line of scrimmage 25% of the time (3rd Best in the league – the Seahawks have only done so 17% of the time). Once runners get in to the open field though, their effectiveness drops dramatically, as they rank #21 in Second Level Yards (yards earned by opposing runners 5-10 yards beyond the line of scrimmage) … and #26 in Open Field Yards (Yards earned more than 10 yards beyond the line of scrimmage).
Over the last couple of years, Marshawn Lynch has put up fairly good numbers against this Rams team …
Marshawn Lynch vs. St. Louis Rams Defense (2010-2012)
Date
Place
Result
Att
Yards
Avg. Yards/Carry
TD's
Fumbles
1/2/10
at Seattle
16-6 (WIN)
20
75
3.8
0
1
11/20/11
at St. Louis
24-7 (WIN)
27
88
3.3
1
1
12/12/11
at Seattle
30-13 (WIN)
23
115
5.0
1
0
9/30/12
at St. Louis
13-19 (LOSS)
20
118
5.9
1
0
As you can see from the table above, Marshawn Lynch has performed better each time that he's faced the Rams. Of course as most of us also know, even though those first 2 games listed above were wins, they need to qualified a bit. Pete Carroll and John Schneider really cleaned house during Carroll's first 2 years in Seattle. Huge personnel turnover coupled with brand new concepts and a brand new blocking scheme meant a lot of growing pains for this team. The Seahawks were 6-9 going in to that first Rams game on 1/2/10 (they went 4-7 after the Lynch trade) … and 3-5 going in to the second one on 11/20/11. Lynch's lackluster performance in those first 2 meetings was in many ways a direct result of a team that was still struggling to find itself at that time. That is far from the case today. Two Pro Bowl Lineman … the 2nd Most Rushing Yards in football (2,426) … the 6th Best Yards/Carry Average (4.8 Yds/Rush) … and 10 wins are testament to the fact that Seattle's Offensive Line is doing a heck of a lot of things right. Football Outsiders agrees completely, as they have Seattle as
their #1 Run Blocking team in the NFL.
As far as this Sunday is concerned, I would say that the game plan is straightforward and the same basic one that's been in place all year long – look first to establish the run. Though the Seahawks may struggle in the 1st Quarter against this Front 7 … by the 4th Quarter those losses will turn in to big gains and trips in to the end zone against a worn down and tired out Rams Defense. Get the ball in the hands of #24 and let him go Beast Mode as often as possible sounds like a great game plan to me.
Bold Prediction …
Above: Rack of Lamb
I'm going to qualify the prediction I'm about to make by saying that this is a young, very talented, up and coming Rams team. Head coach Jeff Fisher has been one of the best coaches in the NFL for several years now … and he has this young and hungry bunch playing much better football than the team that the Seahawks faced at the end of September. They're a good football team that is only going to improve … BUT their future is not now. I don't buy for a second that this Rams team is going to roll over by any means, as they beat and tied a 49ers team that many consider to be the best in football. So, the Rams DO have talent. Jeff Fisher will be looking to build for next season by seeing if his young squad can go in to a hostile environment and knock off one of the top teams in the game. That said, I don't see him being very successful … and I don't believe Fisher (if you got him in an honest moment) believes his team can actually win on Sunday either. His Wednesday press conference wasn't exactly dripping with confidence. The Seahawks are an absolute buzz saw right now that NO ONE wants to get in the way of … and I'm not either, as there is no way I'm going to bet against this Seahawks group. They are one of the hottest teams in the NFL … and are hitting that hot streak at the exact right time. The Seahawks will get to 11 wins for just the 3rd time in franchise history and enter the playoffs on a 5 game winning streak. Let's call it …
Seahawks 35
Rams 17