Note to mods: Thank you.
1st round: Alec Ogletree, LB, Georgia.
Remember that weird rumor last year about the Seahawks wanting Mark Barron so they could move Kam Chancellor to outside linebacker? That was interesting. Then it got more interesting when John Schneider said himself after the draft that Barron was among Kuechly and Irvin at the top of Seattle's draft board (admitting that they would have taken Barron took some balls, btw). If Seattle drafts Barron, Chancellor is getting moved either to LB or to big nickle safety. Obviously. You have to admit, there is some logic to the move- it would have upgraded our speed at TWO positions with one pick. Chancellor has always been like a great linebacker playing safety.
The last few weeks have rightfully quieted the masses calling for an overhaul at WR. The truth is that our WR group is actually pretty solid and deep too. But is someone like Robert Woods a big enough upgrade over Doug Baldwin or Golden Tate to justify a 1st round pick? The answer to that question is murky enough to suggest that Seattle might look away from passing offense in round one and simply look for the best player available at an area of relative need.
Kam Chancellor is 6'3", 232 pounds. Alec Ogletree is 6'3", 236 pounds. Watch him on youtube and tell me he's not a Pete Carroll type player. He is deceptive fast, smart, physical, and can even rush the passer a bit. He is very much like that Kam Chancellor at WLB experiment we never got to see. My only complaint with Ogletree is that he is a little too conservative attacking the running game. The same was true of Bobby Wagner and Luke Kuechly in college, and as we know Schneider was a big fan of both those LBs. Hesitancy can easily be coached up in a short period of time and even if that doesn't work, he'd play weakside for us and wouldn't factor against the run as much as Wright or Wagner would.
Drafting Ogletree would give Seattle a premium talent at it's final area for improvement on defense. He may not even reach our pick, but if he does, I expect him to be seriously considered.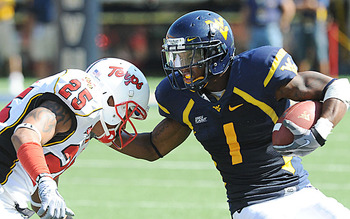 2nd round: Tavon Austin, WR, WVU
Seattle has an interesting situation at WR. All three of their starters are average or better. They have quality depth too. Sure, they could use an AJ Green or a Megatron. But you won't find one of those in this draft. There is a glut of late 1st / early 2nd round players that really aren't much better or different than Tate or Baldwin. It's even harder to reach for a WR around the middle of round 1 when you might not start him as a rookie anyway.
This glut of 2nd tier WRs will likely cause a few quality options to slide- just like Reuben Randle and Mohammed Sanu slid last year in 2012's deep WR class. My guess is that Austin will be one of those guys who slips a bit. Unlike the other top WRs, he has size concerns and isn't even the leading WR on his own team. That said, the Seahawks have been a great "moneyball" franchise in the draft for evaluating players with tons of talent that slip in the draft for some peripheral factor. McCoy fell because he smoked weed. Chancellor fell because of his tweener label. Guy fell because of his awful forty that he ran while he was hurt. Irvin was called a reach because of every reason imaginable other than his pass rush. Russell Wilson, need I say more? The Seahawks are always looking for the outcast with talent to burn.
There is one other reason I have my suspicions that Austin could be a Seahawks target- he's one of the very few WRs in the whole draft that gives Seattle something they don't have already. Marquess Wilson would be redundant with Sidney Rice. Robert Woods would be redundant with Doug Baldwin. Austin will probably run his forty in the 4.3s, and even if he doesn't, it's clear from watching him that he has elite field speed. Austin is a terrific kick returner too, and gives Seattle an option to consider when they eventually move on from Leon Washington.
Austin is more than a fast player with moves. He runs smooth routes and has reliable hands. He's been very productive not just as a return man but as a WR too. I'd go so far as to say that he's a top 10 talent in a mid round body. He's a similar kind of player to Desean Jackson, who himself was a 2nd round pick. Even if Austin can't beat out Baldwin / Tate for a starting job, he'd still provide a lot of value as a return man. I don't think he'd end up sitting though. Seattle needs an explosive playmaker, and Austin is a bit like the CJ Spiller of WRs.
Whether Seattle drafts Austin or not, I suspect they will wait to round 2 to get one. This is a fairly deep WR class and the selection of available options should be almost as good in round 2 as it will be in round 1.
3rd round: Barkevious Mingo, DE, LSU
Mingo has just one sack in seven games this season, and he's only a junior, so there is a very good chance that Mingo won't be in the 2013 draft at all. But on the chance he is, I don't expect him to go earlier than the 3rd round.
Mingo is going to be a bit of a project. Remember during the preseason when Bruce Irvin had a love affair with the bull rush and it made him completely irrelevant? I see a lot of that same issue with Mingo. Mingo is 6'5" 240, but on the field he looks more like 6'2" 235. He's actually a lot like Bruce Irvin: Mingo has a high motor and has terrific speed and ridiculous short area quickness. And like Irvin at WVU, it does not appear that Mingo is being coached worth a damn at rushing the passer.
Pete Carroll worships speed at pass rusher and Mingo has plenty of it. Seattle needs to start developing a successor for Chris Clemons, or add depth in case of injury. If Mingo can put it all together he's going to be another Bruce Irvin- a disruptive situational player that can be especially dangerous for mobile QBs that likes to hold the ball.
4th round: Matt Scott, QB, Arizona
As things stand now, there are two clear 1st round QBs: Geno Smith and Matt Barkley. It's possible that both could be top 5 picks, which could inflate the market at QB and create the same kind of vacuum effect that made Ryan Tannehill, Jake Locker, and Christian Ponder high picks the last two years. The beneficiaries? Probably EJ Manuel. Possibly Tyler Wilson. Possibly Logan Thomas on the off chance that he declares. Maybe even Landry Jones could be this year's Brandon Weeden.
After that, you still have the excellent but short Aaron Murray and the 5th year senior 1st year starter Matt Scott.
Now in a typical draft, there are only about six or seven QBs drafted, and by the time you get to the 5th or 6th guy, you are usually in the late rounds. This should remain true in 2012 considering that very few teams are looking for help at QB compared to years in the recent past. As much as I like Matt Scott's NFL potential, there are a lot of mid tier QBs this year without a ton of demand from teams, so it's completely feasible that he could last into the mid rounds or later.
Through trade, free agency, and the draft, Seattle has added five QBs over 3 seasons so far (Whitehurst, Tjack, Portis, Flynn, and Wilson), and that's not counting obvious roster fodder players like JP Losman. Schneider has talked publicly about his roots in Green Bay and how he believes in adding QBs every year. This is a very good and very deep QB class, with moderately low demand, which means this year is a great year to grab a QB almost anywhere and feel good about the value you are getting.
There are lot of reasons to like Matt Scott. He's been productive. He can progress through reads. He's accurate. He's highly mobile in the Aaron Rodgers sense. He makes smart decisions and has good leadership. He has a good arm with good throwing mechanics (ball gets out fast and high). His footwork isn't perfect, but it's no worse than Geno Smith's. That Matt Scott shows this much talent and development already despite riding the bench for four years is impressive.
Scott would need some time to add weight, maybe two offseasons. He's currently at 196 pounds.
There are many times when I watch Matt Scott that I swear I'm watching Aaron Rodgers again. Last year I thought Russell Wilson was the bargain of a good QB class. This year I think that player is Matt Scott. If given some time to acclimate to the NFL, I think he could be a good NFL starter, and a great low cost insurance policy on Russell Wilson.